Whether you're weaving 50 stars or a few thousand stars to display in your school classroom or work office, here are some quick and easy steps to make sure your beautiful stars are kept safe and enjoyed by everyone.
Read our instructions on how to string stars for display in your office, home or school.
For our very first installation in 2012,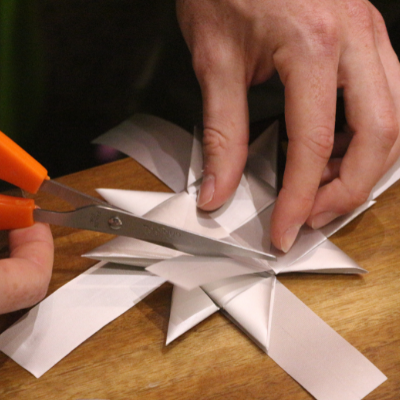 we brought together friends from church, work, and our local neighbourhood to help us string together our stars.
We've come a long way, from the first display. We used fishing wire for the first display, which was held at the beautiful Royal Exhibition building in Carlton, Victoria as part of The Big Design Market.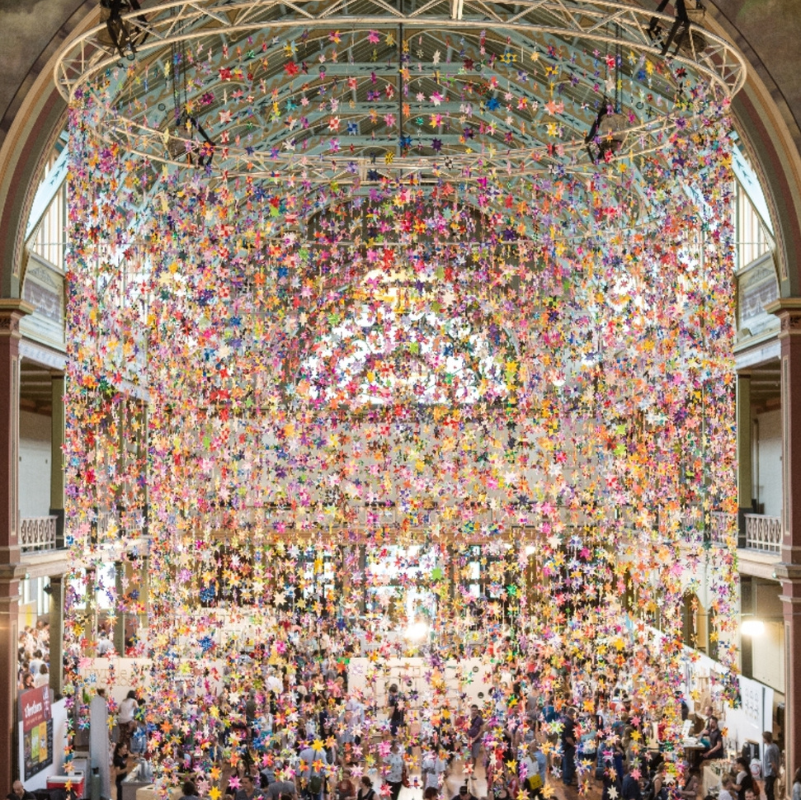 Our thinking at the time was to use a stringing material that didn't take away from the vibrant colours of the stars.
Looking back, we realised that it didn't matter what string we used. The most important thing is to make sure the string you're using is sturdy enough to hold your stars.
The downside to using fishing line, especially on a large installation of 12,000 stars is that it can get tangled – a very frustrating but valuable lesson learned!
Over the years, we've moved to using colourful builders line, which you can buy from any hardware store. If you're in Australia, we get ours from Bunnings. They are fluro green, orange, and pink. We love a nice bright pink!
There's no right or wrong way to string your stars, just a few things to consider when attaching your stars:
Keep 10cm – 20cm free on one end, to tie to the frame that you want to hang your stars from. We've used hula hoops from a $2 store / thrift store. You can also use existing beams in your school, home, or work space.
2. Decide how many stars you want to hang on each strand. Let's say you want to string 10 stars on one length of builder's line.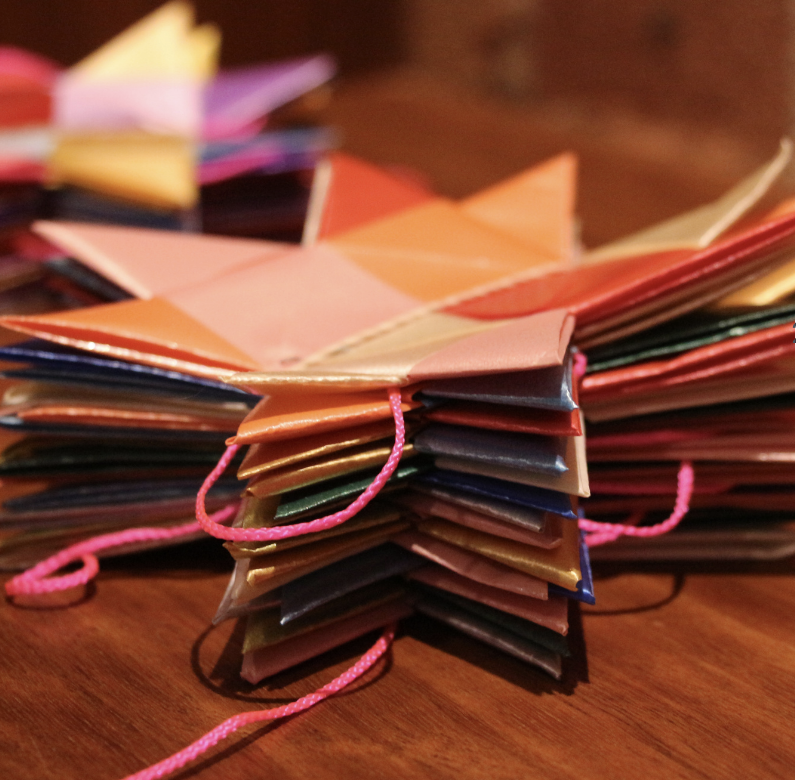 Place your 10 woven stars in a line on the table first. Space them out about 5cm apart. Again, you might want them closer or further apart. It's totally up to you.
TIP: You can use different lengths as well. For the The Big Design Market, we created 3 large hoops to create a chandelier effect for the stars. The inner hoop had 8m lengths, the second hoop had 6m lengths and the outer ring had 4m lengths. It was stunning!
3. Once you're happy with the spaces between the stars, grab your string and measure how much you need to use, adding the 10-20cm extra for tying to your frame.
TIP: We recommend using a high table if you're stringing lots of stars. Gotta take care of your back!
4. To secure the stars to the string, we used a combination of sticky tape and staples for the fishing line. Today, we just use sticky tape.
5. Once we're done taping all our 10 stars to the string, we will stack them on top of each other in a bundle and put a rubber band around them so they stay together.
For a quick video demo, plus more images of how you can display your stars. Check out our Instagram page here.
Other ways to string your woven stars:
Some communities have sewn their stars together using a sewing machine, you can find a cool video of this here by Jen Mouritz at Stamping Ground Prints.
You can thread the string through the stars and tie a knot or add a stopper bead (for our crafters out there, this will make sense to you). A stopper bead is a bead or clasp that you can thread through to stop beads, in this case, stars from sliding down.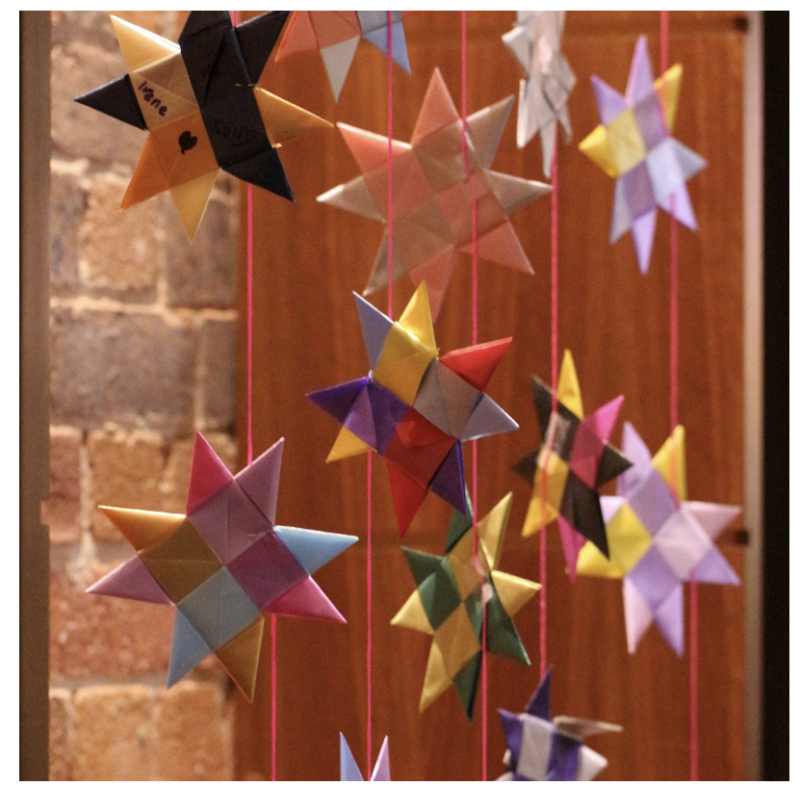 3. You might not want to string your stars and instead, blutak them to a wall or create cut out words or stencils that you can fill with your woven stars.
Some of our star weaving communities have created heart shapes, birds, huge words for festivals or created designs in several spaces in their school or workplace. The ideas for how you can display your stars are endless!
We love seeing how people display their stars. Especially during this season, when many of our star weavers are weaving stars for their gifts and Christmas decorations. It really is the star for all seasons!
Make sure you email us let us your pictures of how you're displaying or installing your stars. You can also tag us on Instagram at @weave_onebillionstars and #onebillionstars to give us permission to share your pics.
Remember, you don't need to be a recognised "artist" or "weaver" to get involved in this beautiful project or to weave stars.
You just need to be yourself and care about the safety and dignity of others. Everyone deserves to live a life free from violence.
Buy one of our star weaving kits or attend one of our star weaving workshops coming up in January 2022 to get started on creating your own star installation.
Happy Star Weaving!