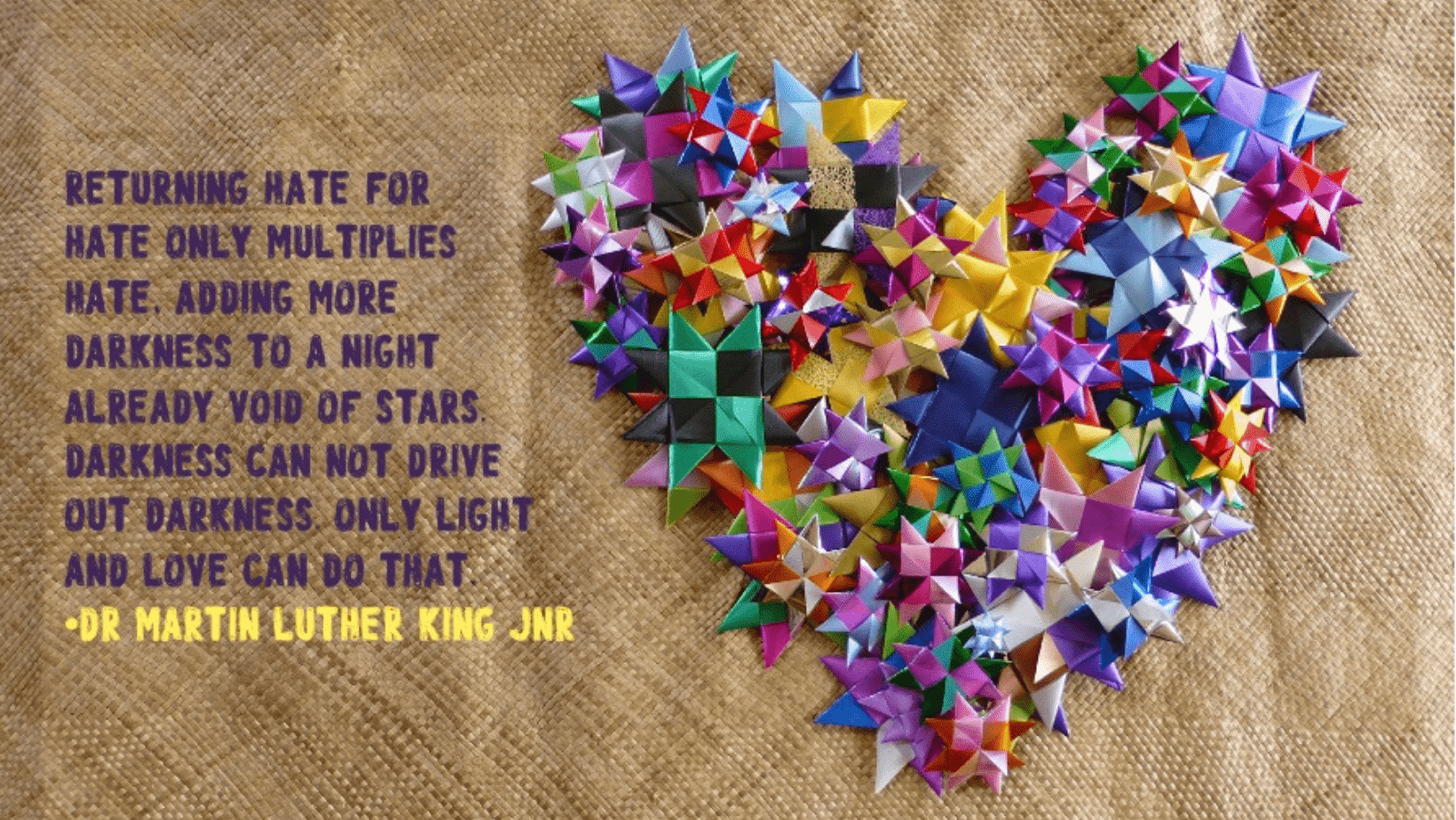 "Darkness cannot drive out darkness; only light can do that. Hate cannot drive out hate; only love can do that."
– Rev Dr Martin Luther King Jnr.
The One Million Stars to End Violence project has grown
into One Billion Stars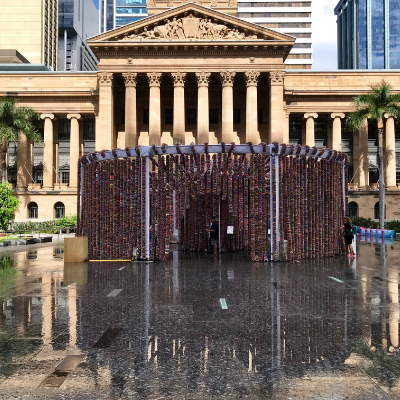 In 2021, One Billion Stars was launched to encourage communities around the world to continue weaving stars as symbols of hope, courage, and solidarity to end all forms of violence, including violence against women. One Billion Stars aims to bring millions of people together to weave one billion stars for violence free communities by 2032.
One Billion Stars, formerly known as the One Million Stars to End Violence project, was created in 2012, after the rape and murder of Jill Meagher.
I was so moved by my local and church community at the time, that I was motivated to find a way to work through the grief and the rage.
After seeing some words by Dr Martin Luther King Jnr in the sea of flowers for Jill, I ran up to my studio, I grabbed some florist ribbon and I started weaving stars.
I made a decision in that moment, to teach as many people as possible to weave an 8 pointed star, the same star that my mother wove growing up in Samoa.
My husband and I set a goal to collect one million woven stars for a display in 2018.
Not only did we reach our original goal of one million woven stars for a stunning installation in Brisbane for the 2018 Commonwealth Games, but we doubled that. In fact, we received over 2.4 million stars from over 15 countries.
We also partnered with some incredible human beings within the Queensland Government, Museum of Brisbane, Lumen & Cloud and Human Ventures AND we created a global community of solidarity to end violence.
This community continues to gather, grow, and protest in creative, inclusive ways, not just in times of tragedy, but all the time.
One Billion Stars is doing more than teaching a Pacific Island weaving technique. Star weaving is good for our mental health, it's helping to build stronger relationships in our communities and so much more.
Why was One Billion Stars created?
One Billion Stars was created because we still have so much work to do to help end violence.
10 years ago, I witnessed over 30,000 people march down the road demanding an end to the brutal treatment of women.
I remember thinking, "Why can't we come together like this all the time? We're strangers and yet we're reaching out and comforting each other with no shame or fear."
I turned to star weaving because it brought me comfort, cultural connection and healing.
Each woven star represents hope, courage and solidarity to end all forms of violence including violence against women, bullying and racism.
Weaving helped me to see a way forward, to remember those who were taken from their loved ones, to live with the pain and to weave all this emotion into action for change.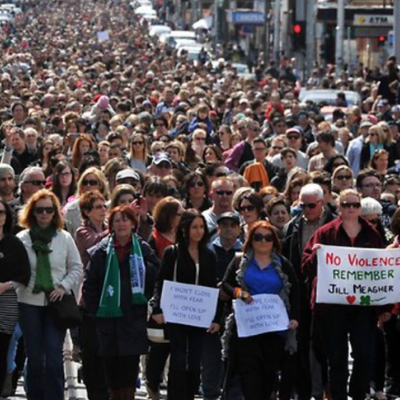 Years later and we are still seeing people come together to weave these stars because they care deeply about women feeling safe and respected in their communities.
Because of this, we have been inspired by star weaving communities around the world to set a new goal of weaving one billion stars by 2032.
One Billion Stars represents how massive the issue and conversation of ending violence is and how we need millions, billions of people to participate and make an impact, however small.
At One Billion Stars, we understand that there is no one answer to this global emergency.
What we do know, is that star weaving can help us to:
Focus on reaching diverse communities and specialists to make a small impact, every day.
Create a sense of belonging so that people feel they can make a difference to one person.
Prioritise the safety and wellbeing of women and the most vulnerable in our communities
Creating beautiful installations with our woven stars is deeply rewarding, however, the process of inviting others to weave a star with us, of sharing the story of the stars and why we are weaving them is just as powerful.
We're all about that long term change, which weaving naturally lends itself to.
It's going to take years to weave one billion stars, but this is also time that's required to build safe and genuine relationships if we're ever going to end violence.
This can't be built over night and by one person. We need time to build trust, to listen to stories of resilience, healing and long-term solutions.
Can star weaving really end violence?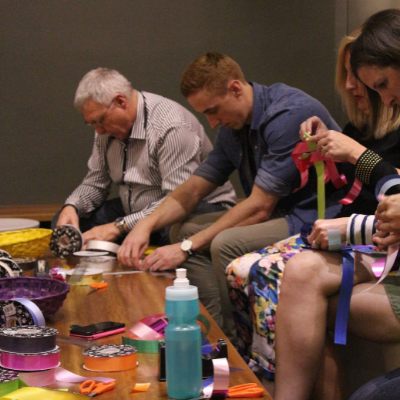 The short answer is no, because we need people to do more than star weaving. The long answer is, star weaving is helping us to connect with our communities to make an impact on ending violence.
You can read more about what impact star weaving has on violence here.
Common sense tells us that holding a woven star up to someone who is being violent is not going to stop them from hurting another.
It also makes sense that weaving a star doesn't guarantee that that person will refrain from being violent towards another person.
One Billion Stars is about raising awareness daily, creating spaces for people to share, feel heard and to belong. Weaving stars creates opportunities to remember that there is still kindness and joy in the people around us.
One Billion Stars is determined to reach families, workplaces, young people and community services to let them know that we are a community that is committed to seeing an end to violence.
We are telling the world that this is what we stand for and this is what the stars represent.
The more people we can bring on board to make that commitment, the deeper the impact we can make on creating safety for everyone in our communities.
Everyday, more and more people are learning about the project and jumping on board to weave their star with the intentions of ending violence.
We know that if we are less stressed, feeling more joy and doing something that connects us to a higher purpose and a community of like-minded people, we have a higher chance of feeling healthy wholistically.
Absolutely anyone can weave a star.
You don't have to be a master weaver, an artist or even a "creative person" (I think everyone is creative, it just depends on your perspective).
The woven star comes from many cultures, including the Pacific Islands, but it is a decorative craft that anyone can practice.
Men, women, children, non-binary, transgender, all ages, cultures and abilities – anyone and everyone is welcome to learn and weave a star with us.
Ending violence involves all of us.
Star weaving helps us to remember that we have so much in common. Each woven star is a reminder of our unique light and gifts that only we can bring to the world.
Is weaving suitable for beginners?
How can people get involved?
It's super easy to get involved in the One Billion Stars project.
You can weave stars on your own, as a small group or you can register to be a Star Weave Community.
Star weaving is perfect to do in the comfort of your home to unwind from a big day. It's also great to do with some friends or family.
Simply gather your materials, florist ribbon or cut your own paper strips, see our instructions, or watch our tutorial video.
You'll need a hard surface, like a table or if you like to weave sitting on the floor, your knee or the floor in front of you is handy to help you make those creases as you weave.
Once you've completed your stars, you can choose to display them however you like. There have been some stunning examples by some of our star communities.
We've seen stars on fashion garments, hanging from chandeliers, in shop windows, libraries and on front verandas. The possibilities are endless.
We also ask that you take a photo of your stars and send it to us via out contact page or you can tag us on social media here. Let us know who you are and how many you wove. We love seeing pics of your stars.
We're not collecting any stars now, but once we do, we will let you know here on our website. You can also follow us on our Instagram page and our facebook page.
Get involved and be a Star Weave Community or get your friends and family together to weave stars for violence free communities.
Will there be a One Billion Stars installation?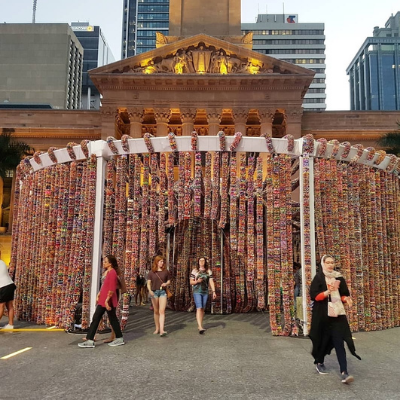 Currently, we're not planning an installation of one billion stars in one place.
As much as we LOVED seeing one million stars in one place, we feel it would be more impactful to see installations created around the world.
We love how the stars have special stories to each location around the world.
Each installation is a unique story of that community and it's a wonderful way for people to celebrate their weaving efforts.
We'd love to see thousands of woven star installations around the world, contributing to the total of one billion stars.
If you're ready to start weaving, check out our page on how to get Get involved or how to become a Star Weave Community. If you have any more questions on how to get started, send us an email and we'll get back to you as soon as we can.