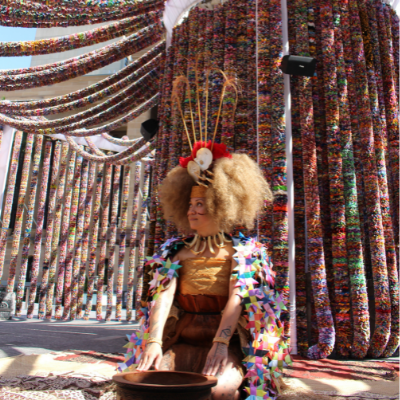 Master Star Weaver
Maryann Talia Pau is a weaving artist, co founder of One Billion Stars and Chief of Super Native Unlimited with her husband and Indigenous leader Mark Yettica-Paulson. 
Born in Samoa and raised in Tāmaki Makaurau Auckland, Aotearoa New Zealand and Australia, Maryann is based on Quandamooka Country, Redlands Coast, Queensland Australia. 
Her arts practice is driven by collaboration with a focus on sharing stories and building resilient communities through Indigenous South Pacific Island / Pasifika weaving
Maryann is passionate about mental health, the arts, community development and ways to care for our environment.
She has been weaving body adornment, speaking on art as activism, and exhibiting work for over 10 years in major galleries and institutions, including the National Gallery of Victoria, Gallery of Modern Art, Artisan and the Institute of Modern Art Brisbane.
Projects and experience:
Fashioning the Mana. 2010. National Gallery of Victoria. First solo exhibition. work acquired by NGV.
Mis-Design. Pacific Women's Weaving Circle co founder. Workshop and exhibition design in partnership with University of Melbourne
Craft Cubed. Artist in Residence with Emma Greenwood. Craft Victoria.
Strength to Love. Artisan Brisbane. Solo exhibition and artist talk.
Island Fashion. Queensland Gallery of Modern Art. Group exhibition of Pasifika and First Nations artists. Workshops and public programs.
Holding Space. A creative response to Hummingbird House, Queensland's only children's hospice, for Adderton House 'A Fierce Hope'

group exhibition. Collaboration with Ranu James. Samoa. PNG/Australia

Artist in Residence at architectus Brisbane Australia.
Contact Maryann to speak or run a weaving workshop at your next corporate or community event