"We are raising awareness of domestic abuse and healthy and unhealthy relationships. We stand together in solidarity against violence." – @irelandstarweavers
I continue to marvel at the woven star installations and activations that are happening around the world. One Billion Stars workshops and displays are blossoming in parts of the globe that I could only dream of visiting.
And with our new reality of needing to physically distance to reduce the spread of COVID, star weaving is the kind of activity that anyone can pick and participate anywhere, anytime.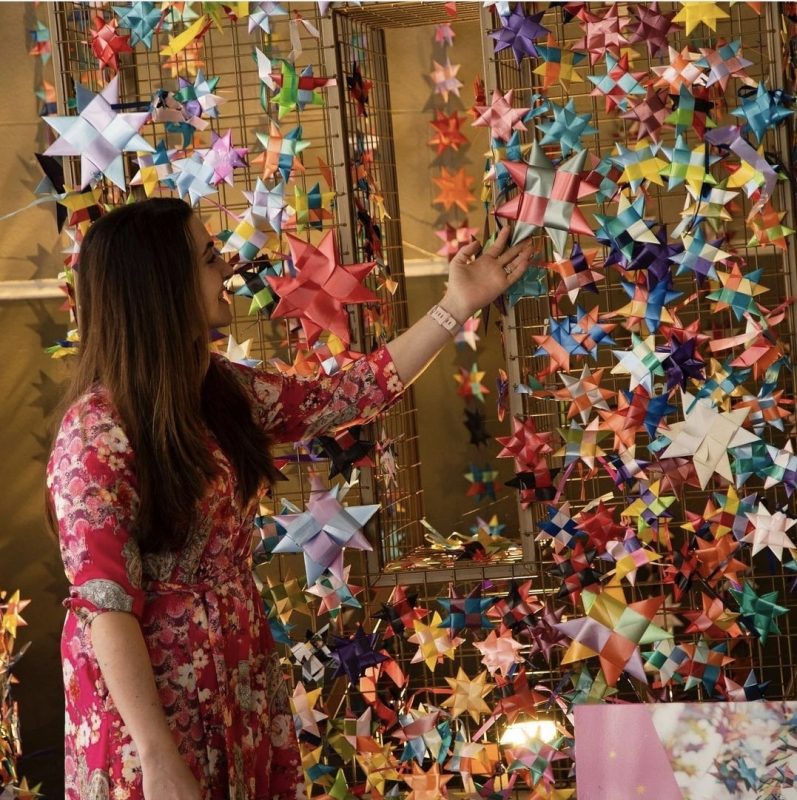 All you need are star weaving materials, access to our video tutorial or pdf instructions.
Some of these communities have embraced the stars so much, that they have written to ask if they can be translated into some of their local languages, including Japanese and Syrian. Some communities have created their own videos of star weaving instructions using locally sourced materials.
The stars reaching across the world is largely due to the inclusive, gentle therapy that star weaving evokes. It's no secret that the One Billion Stars project is a multi-layered project.
Some people are attracted to star weaving for one or more reasons:
It allows people to unite to end violence against women and other forms of violence such as bullying and racism.
Star weaving also encourages better mental health by offering a calm, repetitive activity.
It also represents Pasifika culture or connects us back to our own cultural memories of making and craft. Star weaving is an opportunity to remember the weaving crafts that many of our ancestors practised to make practical objects for the home and everyday life, but also for performances, dances, ceremonies, and decoration.
The stars are also about actively building community cohesion or connectedness by inviting people, often strangers to come and partake in a hands on activity. The main objective is to make a star in your own time.
There is also the element of talanoaga, of story telling. Star weaving honours the fact that everyone has a story to tell and listening is the most powerful thing we can do to help others heal.
Over the last 9 years years, I have witnessed people relax and start conversation without any prompts.
Being in Auckland for VTABS recently, I experienced how refreshing it is to have live conversations with each other, and not through the lens of our devices or social media platforms. The conversations were open, honest and without filters. They are often uplifting and full of laughter. I saw people feeling encouraged to discuss ideas, tried and tested solutions, sharing hopes and dreams for the future. There is also a safe silence which is meditative and comforting to some of our star weavers.
We are weaving stars, having conversations and we are connecting to a basic desire which is to make and be in respectful relationships with others in our communities. We are building communities from the bottom-up. We are empowering ourselves to create a social movement based on our terms and in our spaces. We are practising what it means to be in community, with people like us, with people who are polar opposites and with those whose paths we may have never crossed if not for the Samoan and Pasifika practise of weaving.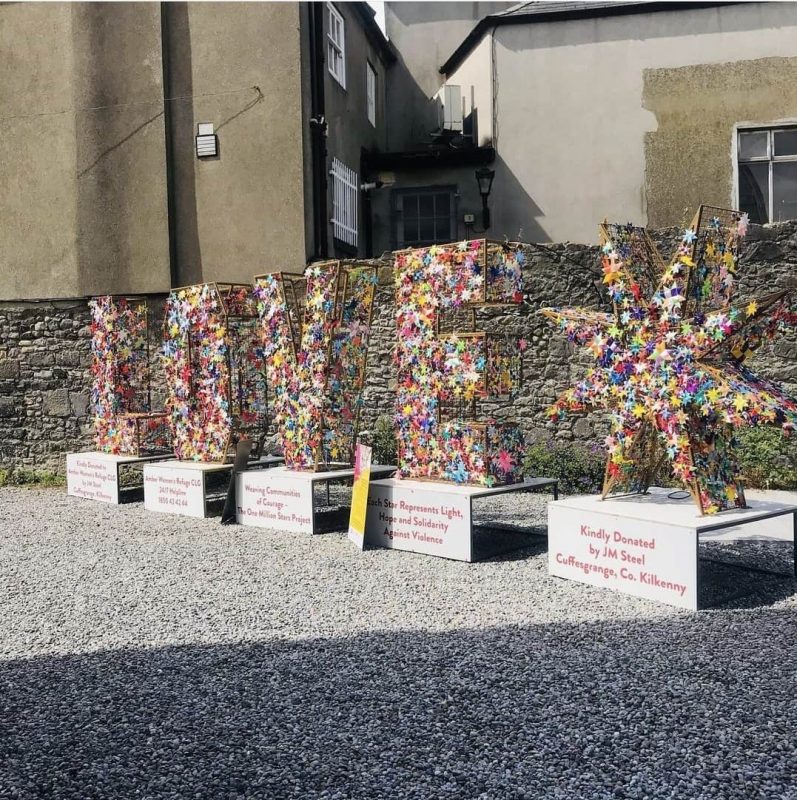 One of the star weaving communities that continues to inspire me are the Ireland Star Weavers, led by Siobhán McQuillan. They have an instagram page and facebook page that you can follow as well to keep up to date.
Currently at the Medieval Mile Museum, in Kilkenny Ireland, there is a stunning installation of oversized steel letters that spell the word L O V E.
These 2 meter steel letters were created and donated by JM Steel Cuffesgrange, Kilkenny for Amber Women's Refuge. They are being filled with woven stars by locals who have been impacted by domestic violence and who believe that people coming together to weave stars can unite against all forms of violence, including violence against women, bullying and racism. These star weavers are members of the community for Amber Women's Refuge One Million Stars Ireland.
These words were first displayed at Macdonagh Junction Shopping Centre during the 16 Days of Activism last year, Nov 16 to Dec 1. They remained on display over the Christmas holiday beneath a beautiful installation of 10,000 woven stars.
I even had the privilege of joining them on Nov 27th last year via zoom, to talk to them and wish them well on their star weaving journey.
Last week these star letters were at Kilkenny City Hall, each star a symbol of light, hope and solidarity to end violence and before that they were at Kilkenny Castle.
In August last year, their exhibition CONNECTED formed part of Design and Craft Council of Irelands Sculpture Trail. 3,000 stars woven during the first lockdown were displayed in The Medieval Mile Museum as a symbolic representation of a connected community in solidarity against all forms of violence.
These active star weavers are also partnering with local businesses to display woven stars in their shop windows to promote the message of standing together against domestic violence.
#amberstarhost
What Ireland Star Weavers have achieved to date fills me with joy and inspires new star weavers around the world to join in and make change.
Their commitment to bring people together and to keep the conversation of ending domestic violence alive is energising. 
There is so much great literature out in the world about the what makes a social movement successful and the benefits of the arts on mental health.
This is one example:
"The practices of successful movements grow their grassroots, strengthen their movement's momentum with connection, collaboration, and small wins, and ripple out to activate more individuals, communities, and organizations.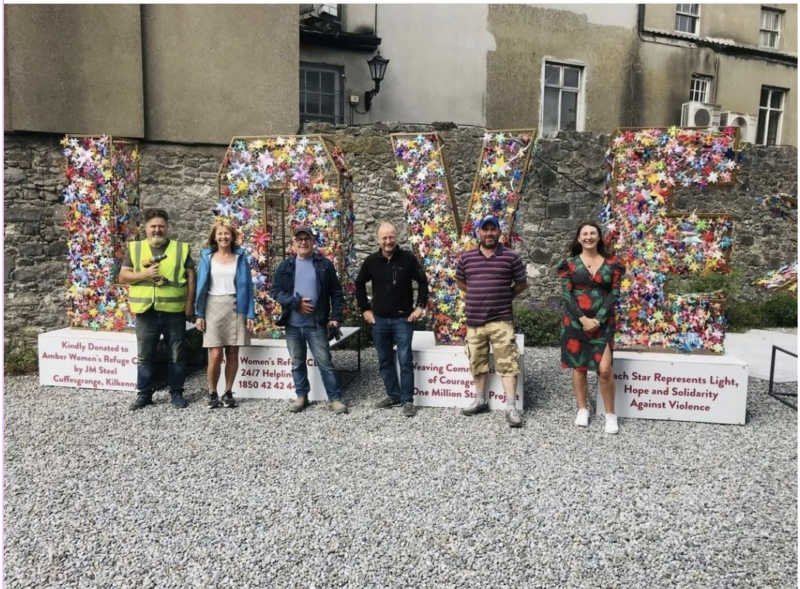 These practices include building grassroots momentum, assembling networked movements, being leaderful, broadening the network by forming coalitions of organizations, and winning hearts and minds. " – Together We Rise: How Social Movements Succeed.*
If we are to make a lasting impact on domestic violence, racism, bullying and inequities, then we need to create social movements that help all of us to rise. Where ever we are in the world, if we can do something that keeps us accountable and part of a movement that can be embraced by communities to lead it themselves, this is success. This is what drives us at One Billion Stars.
Power to the People.
Star weaving in solidarity. Always.
Maryann
* Gia Nardini. University of Denver
Tracy Rank-Christman. University of Wisconsin-Milwaukee
Melissa G. Bublitz. University of Wisconsin Oshkosh
Samantha N. N. Cross. Iowa State University
Laura A. Peracchio. University of Wisconsin-Milwaukee