World Star Weaving Day, 2 December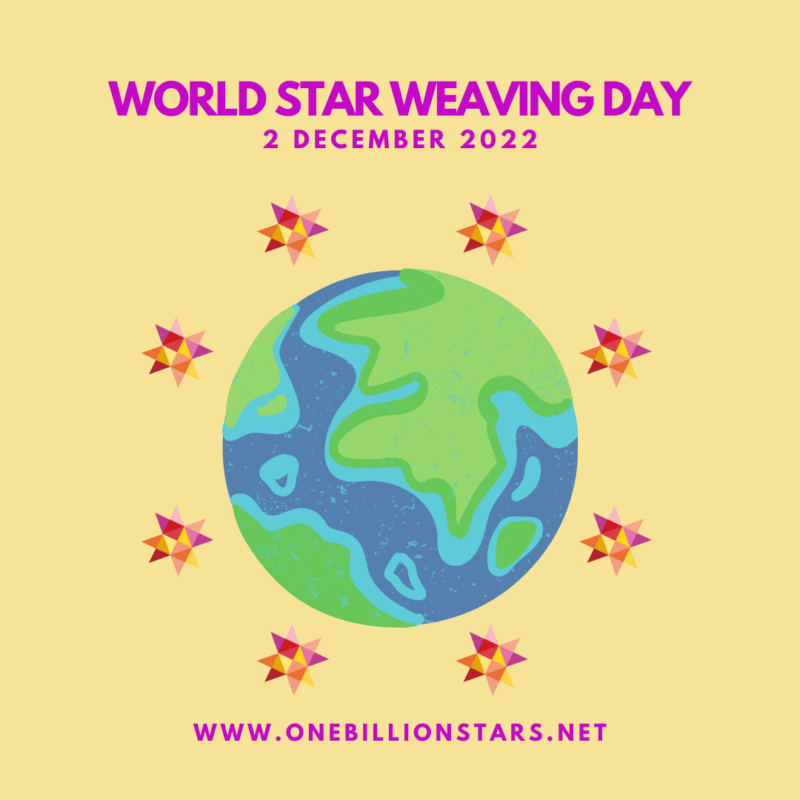 On Friday 2 December 2022, we are celebrating our first World Star Weaving Day as part of our journey to one billion woven stars by 2032.
To kick of this annual event, One Billion Stars founder, Maryann Talia Pau, will be running star weaving workshops in partnership with The Big Design Market Melbourne at the Royal Exhibition Building, Carlton.
We are super excited to be working together again to spread the message of the stars and to welcome more people into this global star weaving community.
Everyone is welcome to attend. If you can't make the event in Melbourne, you can create your own star weaving event by purchasing one of our star weaving kits here.
Our first installation for One Billion Stars (formerly One Million Stars to End Violence project) was launched at the Big Design Market 2013, which featured over 10,000 hand woven stars. These stars were then added to an installation of one million stars for the 2018 Gold Coast Commonwealth Games in King George Square, Brisbane City.
Date & Market opening hours:
Friday 2nd December, 10am – 9pm
Saturday 3rd December, 10am – 7pm
Sunday 4th December, 10am – 5pm
Workshop hours will be posted closer to the date.
Location:
The Big Design Market
Royal Exhibition Building, Carlton VIC
The Big Design Market acknowledges the Woi Wurrung (Wurundjeri) and Boon Wurrung people peoples of the eastern Kulin Nations where we hold our events, and First Peoples language groups and communities across Victoria and Australia.
Cost:
Visitors to The Big Design Market can attend a star weaving session at no additional cost.
Entry to The Big Design Market costs $6 for adults online / $8 at the door. Free for kids 12 years and under.  
Materials will be provided.
Disability Access:
The Royal Exhibition Building is wheelchair accessible. All exhibitors and workshops are located on the ground level.
16 Days of Activism:
World Star Weaving Day is also part of the annual 16 Days of Activism activities that anyone can participate in anywhere around the world.https://16dayscampaign.org/