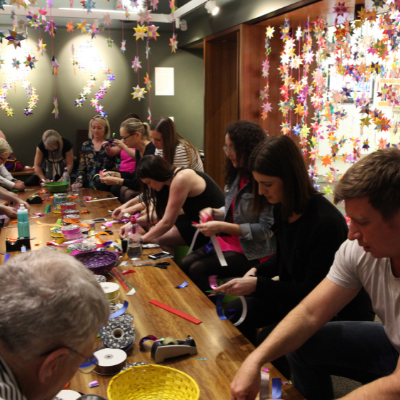 Next time you sit down to weave a star, you'll be pleasantly surprised by how weaving 4 strands of ribbon together can be fun and relaxing.
We're learning more everyday about how weaving is good for us.
A quick search online can yield pages of how knitting, painting and sewing can benefit our mental health,
however, we're yet to discover how weaving crafts such as star weaving can benefit us too.
What they all have in common is that they require us to use our hands and to focus on the experience or process of making, rather than the finished product.
When we experience pleasure doing something we enjoy, the brain releases dopamine which is like a natural anti-depressant.
Through our experience of weaving stars with communities over the last 10 years, we've learnt that star weaving is doing more than helping us find ways to end violence.
It's also making an impact on individual and collective mental health.
Star weaving helps us to:
reduce stress
meet new people and build a more connected community
feel a sense of belonging
decrease feelings of overwhelm
find ways to listen to other people's trauma and suffering
refer people on to professional support in a gentle caring way
find joy and kindness in others
The mind is truly beautiful and powerful. With the right activities and environments, our brains can be creatively challenged and healthy.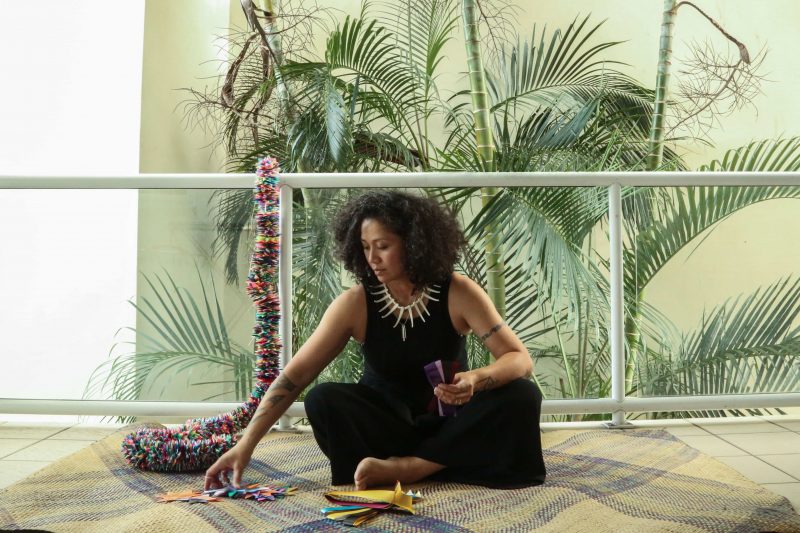 Weaving is a type of fabric/cloth/material construction. In the process, at least two separate sets of fiber or material are interlocked using crisscross or multiple techniques to create a woven object.
In Samoa, weaving is practiced by women to make prized fine woven mats for ceremonies such as weddings and funerals using dried pandanus leaves. Men often weave to make baskets for carrying food home from their plantations and farms.
Weaving is an age-old technique that many Indigenous cultures use to make practical objects such as mats, baskets and hats.
Repetitive in nature, weaving with natural or synthetic fibers, like most crafts, allows for more complex designs to be introduced once the fundamentals have been mastered.
Here in Australia, there has been a steady resurgence by Aboriginal, Torres Strait Islander, Māori and Pacific Islander creatives who are passionate about reviving traditional cultural weaving crafts.
Some of our favourite weaving artists to follow include Quandamooka aunty Sonja Carmichael and her daughter, Elisa Jane Carmichael and Torres Strait Islander Grace Lillian Lee.
In Aotearoa New Zealand, master weavers like aunty Maureen Lander have been making beautiful cloaks, bags and contemporary pieces that tell stories of place, identity and community.
Aunty Maureen shared star weaving with some local students a few years ago, to help them talk about and cope with the recent death of a teenager who died during a school fight.
For the One Billion Stars community, weaving is centered more around the meditative process and communal nature of weaving.
There are many types of weaving, including loom and cotton weaving, and a menu of objects to make like bags, hats and mats.
For this article, we want to investigate how natural and synthetic fibre weaving such as star weaving can drastically improve mental health.
A snapshot of mental health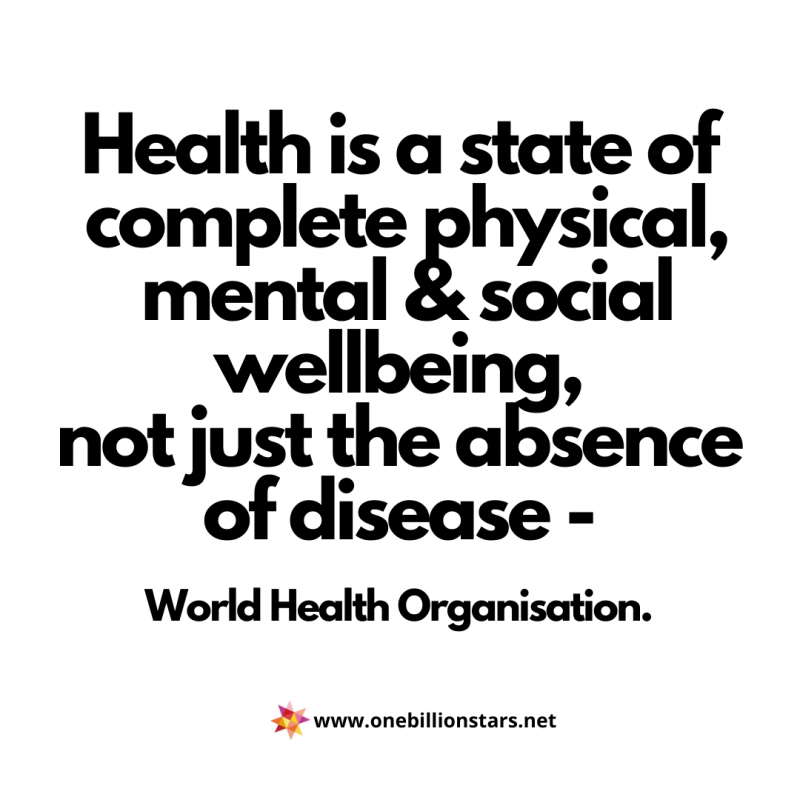 This quote is a favourite and encapsulates health as we understand it from a creative & weaving point of view.
Mental health speaks directly to one's psychological, social, emotional, and spiritual well-being.
Your mental health impacts how you think, feel, and act even amidst stressful situations.
When you are mentally well, you relate and respond better to life's responsibilities and the relationships around you. Instead of sinking deep under pressure, you're able to navigate your life in a positive manner and consider healthy choices.
Caring for your mental health is critical to living a healthy lifestyle from childhood into adulthood.
Good mental health also encourages positive self-talk. It boosts self-confidence and makes problem-solving a way of life.
Signs that our mental health needs some TLC (Time, Love and Compassion).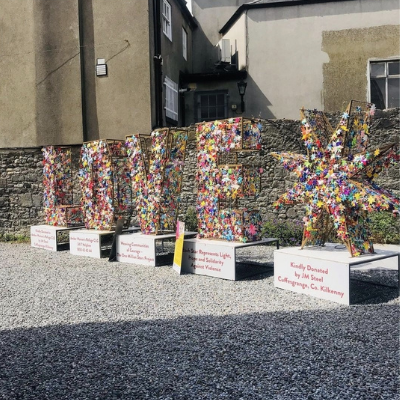 It's easy to offer care and support to someone who has a broken arm or a fever and chesty cough.
Unfortunately, it's not so easy to detect when someone is exhibiting low mental health.
There are, however, several symptoms that can tell us our mental health needs some extra compassion and time.
The more we can understand our mental health needs and triggers, the better we can recognise the signs and be proactive in changing our mindset or environment around us.
These signs can vary between adults and children and can be subtle or overt.
Some of the more common signs include:
Feeling consistently sad
Reduced concentration
Brain fog
Hurting themselves or talking about doing it
Increased worrisome thoughts
Loss of interest in activities that you usually enjoy
Easily irritable
Decision making becomes difficult
Mood swings
Isolating self from friends and family
Easily overwhelmed
We can probably recognise some of these signs in ourselves or in others.
Thankfully there are some helpful resources on how to best care for our mental health that are easy to access online and from local health professionals.
To complement these resources, we believe weaving can help boost our mental health in a safe and consistent way.
Ways to improve your mental health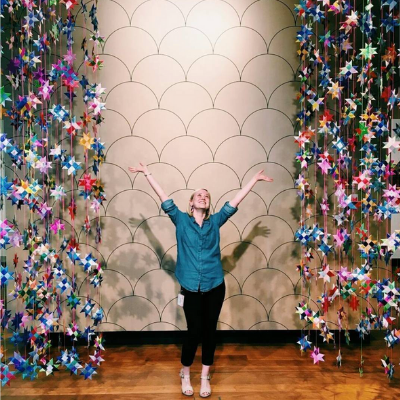 Headspace, Beyond Blue and Mental Health are just a few online resources where you can find information and support.
As well as practicing craft, there are other ways to actively improve your mental health on a daily basis:
Communicate with family and friends
Exercise regularly
Challenge yourself to learn new skills
Practice mindfulness
Speak with a psychologist or a counsellor
Eat healthily
Spend time in nature
Practice deep-breathing
Practice self-talks
Normalise speaking about how you feel
The emphasis here is "daily basis," which is why we love star weaving for the One Billion Stars project.
Not only are we setting aside time for a regular creative practice, we are actively participating in a global movement that is focused on ending violence and building a community around us that we can be proud of.
Star weaving, a natural antidepressant.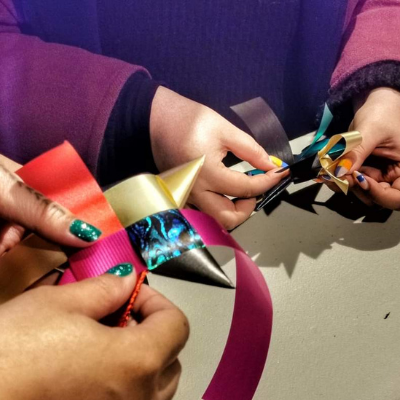 Whether you're weaving coiled baskets, stars or mats for your family to use for picnics at the park, weaving has long term benefits for our mental health as we work to address the difficult issue of violence in our communities.
We created an article on the impact of star weaving on ending violence which you might find helpful too.
In this article, we go deeper into how something as simple and joyful as star weaving can help us to make positive change for ourselves and the communities that matter to us.
8 reasons why weaving is good for our mental health:
1) Weaving encourages cultural connection and pride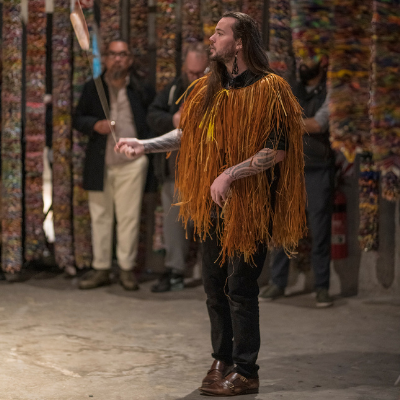 Each of us come from ancient traditions of making and craftsmanship. Weaving allows participants to recall memories of making, cooking or gardening as a child or growing up with a grandparent.
These personal memories can instantly transport people to a loving time in their past. They are often fond times of learning, stories and emotion.
For many Pacific Island and First Nations peoples, there are feelings of pride and enthusiasm to participate, knowing that their cultural crafts are being used to bring people together around the world to tackle an issue that is often taboo.
2) Weaving helps people to feel safe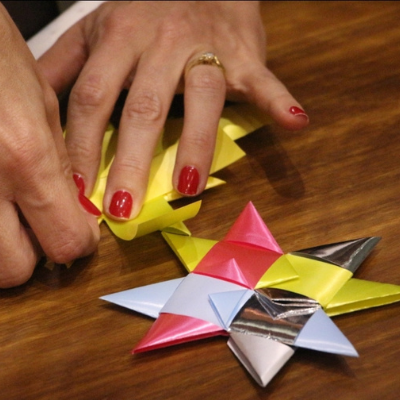 Weaving is a craft that can be enjoyed in the comfort of your own home or with a group of friends or colleagues
For those of us who are introverts and prefer to avoid crowds, star weaving is the perfect craft to do in the safety of your own environment with your favourite music or tv show playing in the background.
All you need is some instructions (we have printed instructions with our star weaving kits) or access to our youtube tutorial, some weaving materials and a sturdy bench to help crease some of your points, your favourite snacks and drinks, then off you go.
We love how some communities use star weaving to help open up their place of business or service to the community. It's a gentle way to invite people into your space and to let your community know that you are part of this important conversation.
3) Weaving helps us to build hope and confidence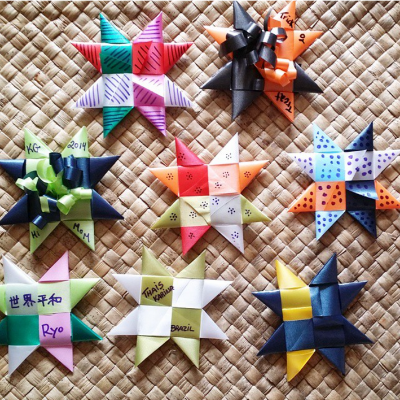 Each woven star is a symbol of hope, courage and solidarity to end all forms of violence, including violence against women, bullying and racism.
Participating in the project reminds us that we are not alone and that we are part of an international community who wants to make a difference together.
Star weaving began from a need to gather as a community with a common purpose to end violence, not just during times of tragedy, but all the time.
"Darkness cannot drive out darkness; only light can do that. Hate cannot drive out hate; only love can do that." These words by Dr Martin Luther King Jnr inspired the creation of this star weaving movement.
Each star woven is a symbol of light and love in the world, and a belief that there is still kindness and compassion that we must protect and encourage.
4) Weaving can encourage intergenerational dialogue, trust and respect.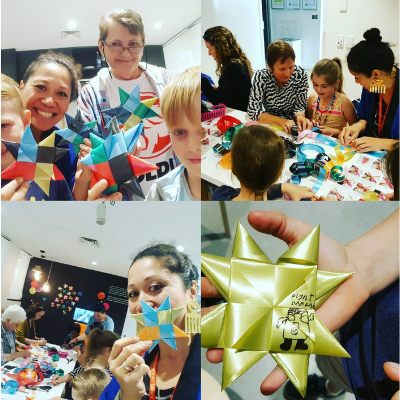 Weaving with different age groups helps people to work alongside and accommodate different capabilities and skill sets.
Many families enjoy weaving together, as it's a wonderful bonding craft that captures the attention of children and adults.
We love seeing surprised parents/carers who initially come to workshops for their children/grandchildren but end up weaving stars themselves and getting so much joy from them.
We become more generous and patient when we focus on learning alongside elders and young people. We allow ourselves to be more in tune with the whole community and the importance of each of our roles to keep our community thriving and passing down knowledge.
5) Weaving is like therapy.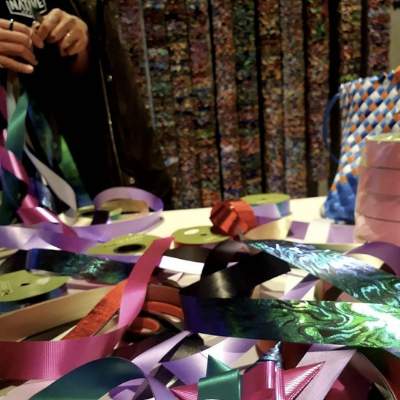 Many of our star weavers love how relaxing this craft is to make. It can take about 5 – 10 minutes to complete, the shortest time being 3 minutes!
Weaving and folding stars during a lunch time break at work or as something to do to unwind from your day is a great way to shift our focus to resting.
Like any new project, it will take around 7 times longer to complete a star if this is your first time. Once you get the hang of it, you will feel competent and confident to try it again, each time getting faster.
Small weaving projects like star weaving are a great way to feel refreshed and ready to take on the next challenge.
6) Weaving is a gentle and simple activity that anyone can do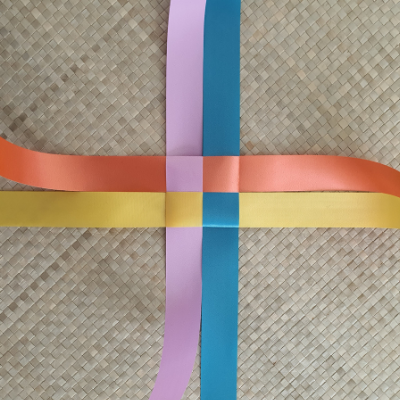 We're all about making it easy to start weaving. You don't need to be an artist or master weaver to try star weaving.
Remember, this craft is for everyone, whatever your age, gender or culture, we welcome star weavers to weave with us.
All you need is access to the internet to watch our tutorial video.
Once you've gathered your own up-cycled materials or you can buy one of star weaving kits that has everything you need to weave a star, you're ready to star weave.
You can carry materials in your bag, ready to weave a star anywhere.
We've heard stories of star weavers weaving on the train ride home or in class or during church services. No set up required, just your hands and 4 strands of ribbon.
7) Weaving helps us to feel competent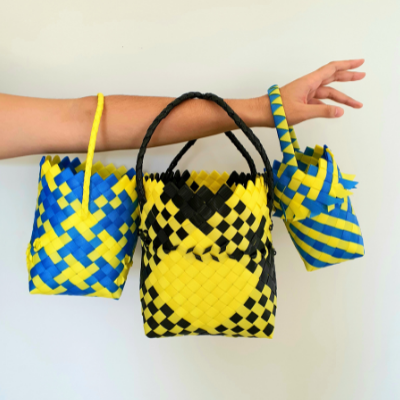 Weaving offers a new challenge, the opportunity to learn and accomplish something new.
Finishing a star or any other woven object helps people to feel successful and a sense of accomplishment.
Once a new star weaver masters the technique, there is a natural drive to try a new design that is more complex.
8) When we weave with others, we feel like we belong and are part of a community.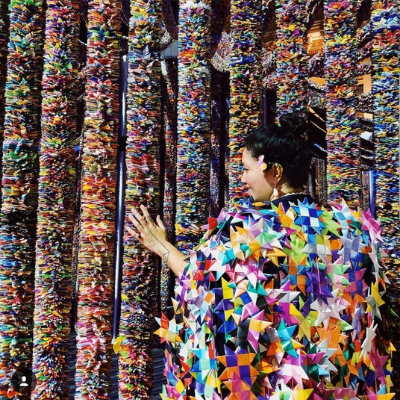 When we feel part of a community, it does wonders for our mental health.
Whether it's a sports team, a craft or reading group, we feel safe and part of something bigger than us. This is critical for sustaining long term health.
It is common for people to want to give more and contribute when they feel they belong to a community who mirrors their values.
To weave one billion stars by 2032, necessitates that communities get together to achieve this goal.
Being part of the One Billion Stars community means we get to share a goal and support each other to get there.
No quick fixes here, just being brave and weaving for long term transformation.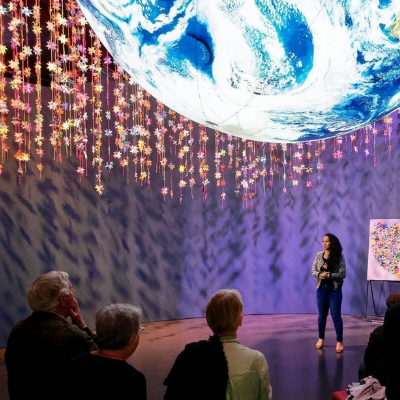 We are proud that One Billion Stars continues to demonstrate how the art of weaving can be an initiative to transform the mental health and capabilities of communities around the world.
We're excited to partner with organisations, cities and councils to help spread star weaving into communities on our journey to one billion stars.
Recently, One Billion Stars worked with Moreton Bay Regional Council in Queensland Australia, to provide free star weaving workshops for local communities as part of their Joy Connection program and then again, as part of Park Jam events.
In a time where communities are yearning to participate in affordable accessible art, Moreton Bay council is responding by creating programs that offer diverse arts and crafts in a COVID-safe way.
Not only does this support local artists and their professional practice but it allows families, individuals and community groups a creative focus, which we've just read, has significant benefits.
The wide impact of One Billion Stars is full of potential.
For us leading and managing this project and community relationships, the benefits we are experiencing is astounding.
Our mental health is being nurtured and challenged daily – meeting new people, teaching what we love and listening to stories of how star weaving is transforming their lives is giving us purpose and a deep sense of community.
Weaving has brought me personal healing and joy, and I am so grateful for the opportunity to share it with many more communities over the next few years.
Get involved in the One Billion Stars movement as we seek to transform lives and communities on a daily basis, one star at a time.