As we're writing this, we realise that this guide can be adapted to support star weaving in high schools, home schooling and adult education.
For now, we're going to focus on primary schools knowing that for One Billion Stars, we encourage people of all ages to weave stars with us.
One of the best things about star weaving as an activity (truthfully, there's more than just one), is that there is no age limit to who can participate.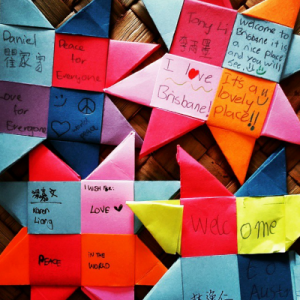 Even though star weaving might look complicated at first, once people build their confidence through regular weaving, star weaving is a rewarding craft that you will want to do more than once.
We've seen children as young as 4 years old come along to our star weaving workshops. One elder told us she was 92 years old, and this was her first time weaving a star. Her weaving was impeccable!
Star weaving for One Billion Stars promotes intergenerational learning and relationship building. We love seeing people of all ages, learning and weaving together.
Not only is star weaving a great family, workplace or team building activity, star weaving has many benefits for students and school communities.
Over the years, we have seen teachers and volunteers (often parents or grandparents) integrate star weaving into classrooms in a few ways:
1.     Reinforcing classroom values of respect, safety and caring for others.
2.     Celebrating national events like National Day of Action Against Bullying and Racism, International Women's Day, NAIDOC week and Mental Health Day
3.     Lunch time or out of hours school care (OHSC) craft activity
4.     Learning about traditional cultures and Inviting Family to weave at school
5.     Connecting craft to school subjects such as science, health, and safe relationships.
Before you get started, make sure to read our Get Involved page for more tips on running your star weaving activities.
TIP: Depending on the age of your students, you might want to prepare the stars for them by completing the first 6 steps (see our tutorial video).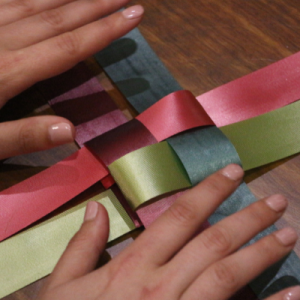 In our experience teaching star weaving to children up to 10 years old, weaving the square body of the star can be the trickiest part.
We've made it simple for little people by making 20 – 30 star square body's first. Time in class can then be focussed on teaching them how to make the points.
Once they feel competent with making the points of the star, invite children to learn how to make the body – they'll tell you if they're ready or not.
You can also prepare another star weaving related activity, lei making, by using any excess ribbon that is cut away from the completed star. Making leis from offcuts is a great to have available if the star is too difficult to weave for now. It helps to keep everyone involved and working together.
Reinforcing classroom values of respect, safety and caring for others.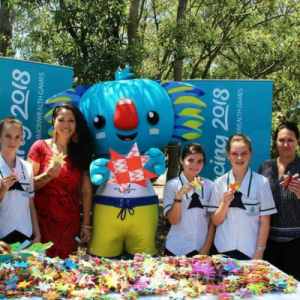 Star weaving is a fantastic craft that takes around 5 – 10 minutes to complete. It's a medium technique and with some preparation, young children can pick this up with little fuss.
For classroom or whole of school values, students can weave one star for each value. Students can choose to write the values or students names/class on each star with a permanent marker.
Alternatively, you can have stickers for students to write on. That way, if they make a mistake, you can use another sticker, so their star is perfect.
Students can also decorate their stars by drawing patterns or using more stickers.
Helensvale State High School, who wove 30,000 stars for the 2018 Commonwealth Games installation has this vision, purpose, and values statement:
–       Learning Vision: Every student can succeed
–       Learning Purpose: One Student, One Community, Many Futures
–       Learning Values: Respect, responsibility, and resilience
In this context, students can weave anywhere from 3 to 7 stars, depending on how many values you want to write on each star.
Once the stars are complete, students can stick them up around the classroom, take them home to share with their families or you can create a small star display.
We've created a guide, Simple Tips on How to String your Woven Stars for your classroom or studio.
DISPLAY: Some schools really got into the spirit of star weaving and creating displays. Carbrook State School and Helensvale State High School wove thousands of stars for the Commonwealth Games installation.
Celebrating national and international events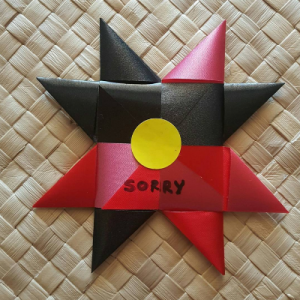 One way to celebrate and participate in National or International events is to weave stars as part of conversations around the theme you want to highlight.
Some of our schools, and workplaces, have woven stars to acknowledge Australia's Reconciliation Week, NAIDOC week and the annual National Day of Action against Bullying and Violence in Schools.
There are many more important international events that students can show support for, including Pride Week, Mental Health Day, and 16 Days of Activism.
Students can also weave stars in the specific colours of each national or international event to match any flags or associated brand colours.
Star weaving allows schools to align their unique stories and values with global movements of social justice, the environment and art as activisim.
IDEA: For World Environment Day in June, students can weave stars using paper strips from unused magazines or discarded printed paper. It's a great way to reuse materials and can be recycled again later.
For an A4 sheet of paper, measure and cut 2cm wide strips along the longest part of the sheet. You should be able to get 10 strips out of one A4 sheet.
A lunch time or Outside school hours care (OSHC) craft activity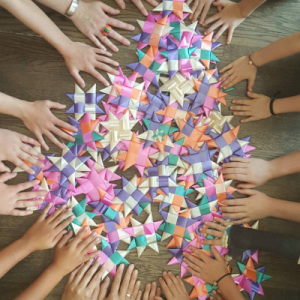 Prepare some star weaving materials by either cutting strips of coloured/plain paper or save time and buy one of our star weaving kits that has everything you need to get started.
Our star weaving kits come with paper instructions, but you can also set up a screen to watch our star weaving tutorial video and weave with that as an extra guide.
You can sit alongside your students and watch as they weave stars for the next few hours. From experience, star weaving can be very entertaining!
We've heard some incredible stories of students who for lots of reasons, are disruptive and unable to focus in the classroom.
Once these students shift their focus to star weaving, often they will excel in this space once they've had a go at mastering this technique. The repetitive nature of weaving and the choice of materials can help to settle and engage students, making learning and participation a joy for everyone.
FUNNY STORY: A friend shared how she volunteered to teach star weaving at her son's school. She noticed that students who didn't attend the religious class needed something engaging and fun to do. Later, almost all the students in her son's class wanted to attend the star weaving class which meant no one was attending the religion class!
Not sure how they fixed that situation, but it goes to show that star weaving doesn't need to be a stand alone activity, but can be used to complement a subject and make learning fun!
Learning about traditional cultures and inviting family into the classroom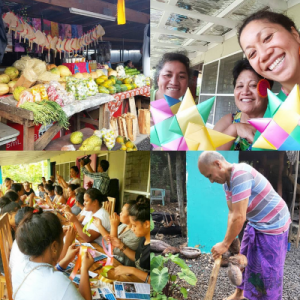 Star weaving is a traditional craft that comes from many cultures, including the Pacific Islands, the Torres Strait, Europe and Asia.
The 8 pointed star motif is also seen in the quilting and bead work of First Nations people of North America.
Learning about weaving and the cultural heritage that they carry is a valuable way to adopt diverse cultural stories into the classroom.
There is also likely to be a student in the class that is from these cultures where weaving is a significant or ceremonial practice.
As the teacher, you have an opportunity to introduce star weaving as a Samoan / Pacific Island craft and artform that is bringing people together to talk about respect, safety and belonging.
It's a chance to explain how the stars are connected to ancient Pacific ways of reading the stars for guidance and as a map. For One Billion Stars, the stars are like our map, teaching us how to be a helpful and compassionate person.
The stars remind us that we are each connected to ancient cultures. Some of us have lots of knowledge about our cultures. Some of us know a little. The important lesson is to remember that we each belong and have a responsibility to stay connected.
REMEMBER: Star weaving can help activate conversations about significant cultural activities that your students will benefit from.
When students see themselves, their families and their cultures in their learning spaces, they will feel safe and encouraged to participate and learn.
Connecting craft to school subjects such as science, health, and safe relationships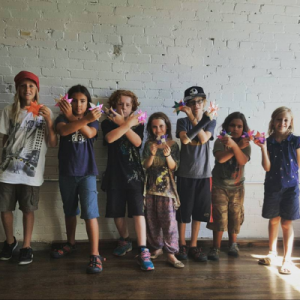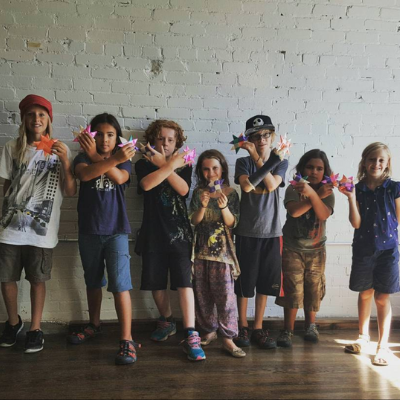 Earlier we mentioned that this guide is tailored more towards star weaving in Primary School classrooms.
For this option, we encourage creative thinking here to calculate how we can complement current school curriculum with a hands on activity that is safe and enjoyable for students and teachers.
Whether you're learning about the physics of energy and the creation of the solar systems or understanding health as a wholistic dynamic, star weaving is helpful way to help synthesise new learnings.
Building in 30 minutes to an hour of star weaving during intense learning periods can help students to digest the information. Star weaving can help enhance students focus, improve left and right brain coordination as well as fine and gross motor skills.
Star weaving is wonderful for helping to strengthen visual learning and supports problem solving skills.
Students with varying skills and capabilities can find a common ground through star weaving and reinforces peer to peer learning and support.
IDEA: Create a star weaving station for students so that they can freely weave during lunch time for a break and mental switch.
Again, prepare your own materials or grab one of our star weaving kits to get started. Display your stars or encourage your students to keep one as a reminder that of their resilience and personal power to learn, adapt and contribute.