From origami paper cranes to yarn bombing public spaces and the "Pussyhat Project" protests, crafting on masse as activism for social change is a growing force that helps to articulate resistance and solidarity.
Weaving is another craft that is being used for collective activism to gently and methodically protest against violence against women, bullying and racism. Star weaving is a form of non-violent activism and a process to influence positive social and political change.
Weaving, like most craft activities, is more than DIY craft, it's a way of life, sustaining our energy to meet and transform injustice and anger into meaningful radical change.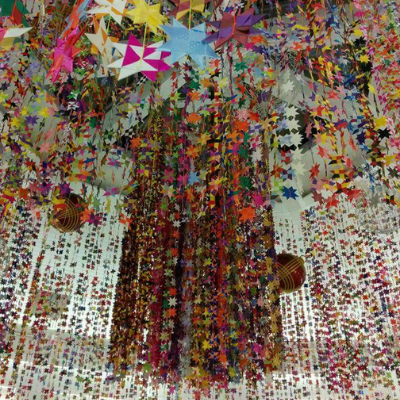 Craft activism or craftivism is a hands on and creative form of activism that combines the words "craft" and "activism."
Craftivism includes knitting, crochet, needlework, yarn bombing and weaving.
Through craftivism, people can participate in local and global conversations that impact social and political realities, like feminism, climate change, anti-capitalist and the Black Lives Matter movement.
Craftivists are those who practice craftivism.
The word craftivism has been credited to writer Betsy Greer. Greer defines craftivism as "the practice of engaged creativity, especially regarding political or social causes." Greer also notes that craftivism is "a way of looking at life where voicing opinions through creativity makes your voice stronger, your compassion deeper & your quest for justice more infinite."
Greer also wrote, Craftivism: The Art of Craft and Activism.
How is star weaving being used as activism
We have communities of people across Australia and around the world who are weaving stars as symbols of their commitment to end violence.
Here we highlight 3 of our active star weave communities.
Hawai'i - Weave Aloha, not fear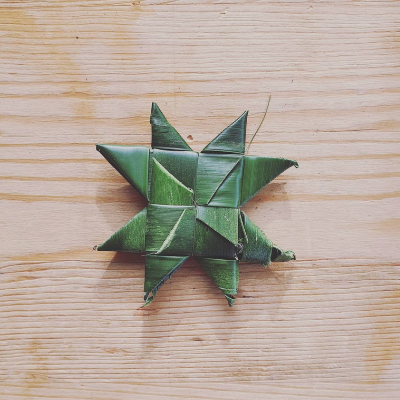 In Honolulu Hawai'i, Master Weaver Pi'ialii Lawson, used star weaving to reach out to his community to raise awareness around suicide.
In Hawai'i, the rates of suicide amongst men are almost 3 times higher than that of women. 
Suicide is the second leading cause of death for people ages 10 to 34 last year. It's also the fourth-leading cause for ages 35 to 44.
An accomplished weaver and teacher, Pi'iali'i reached out to ask permission to teach star weaving because it's a gentle way to hold conversations and speak openly about suicide and it's impact on his community.
Star weaving allowed Pi'iali'i to offer support and care for his community, to find a way to channel personal stories of loss and grief and to hold on to hope that they can change to the narrative.
Crafts like weaving help us connect more deeply to cultures and traditions that can give us insight into how communities dealt with difficult issues in the past such as suicide, trauma, and the role of friends, families and the concept of "the village" and support networks.
Star weaving workshops encourage people to not only participate and weave a star with their own hands, but there is always a reason for weaving the stars.
Star Weave Communities and their Project Leaders will often set a theme for weaving the stars at each workshop. This is a great way to create focus and to invite different communities who are passionate about a particular cause, like ending violence against women, addressing bullying in schools or looking at healthy relationships.
Creating installations or displays of the stars after they are woven are wonderful ways to keep conversations going. They are an inspiring way to keep spirits lifted, to continue creating safe spaces and to encourage people to be active in their commitment to create violence free communities.
Ireland - Amber Women's Refuge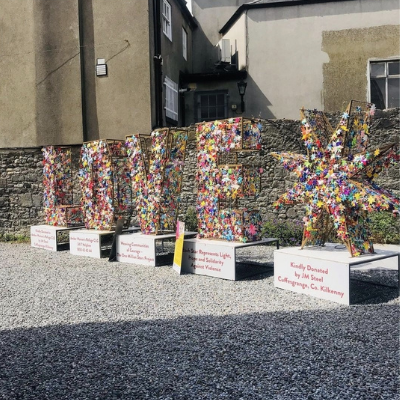 In Ireland, Project Leader Siobhan McQuillan is sharing the One Billion Stars project with Amber Women's Refuge.
They have made a commitment to reach as many villages across Ireland and to be part of weaving one million stars over the next few years.
One of their recent star weaving workshops have focussed on What is Healthy Love, using 8 points of the woven star to promote respect, acceptance, balance, effort, trust, unity, communication and empathy.
One Million Stars Ireland also designed a 3D structure of the letters LOVE, crafted in precast steel in collaboration with JM Steel Cuffesgrange and Kilkenny Hydraulics.
Communities across Ireland have been invited to fill the 2m high frames with woven stars,  including TY students from St Brigid's College Callan, Kilkenny College, Loreto and Presentation Kilkenny, Syrian women's group, the community of Callan, students from Carlow College St Patricks, Rehab Care, Mental Health Ireland, the ICA, and many many more.
LOVE has been on display at Kilkenny castle, Kilkenny City Hall and Market Cross Shopping Centre, creating a beautiful show of solidarity and community love outdoors for everyone to enjoy.
Perhaps, the most powerful display to date of Amber's One Million Stars LOVE installation was during a vigil to honour & remember Ashling Murphy & all the women in Ireland who have been killed by violent.
These stars offered a safe and special place for members to gather in response to this local tragedy, to make public and silent vows to work together to stop the violence.

244 women since 1996 and 1 in 2 women continue to be murdered by a partner/ex.

The One Million Stars project was started in Australia in 2012 in response to the rape & murder of an Irish woman. 10 years later we commemorated another.

Men were asked not to use violence, not to excuse violence, not to be silent about violence & to teach their sons, brothers & fathers the same.

Children & young people were asked to break the cycles of inequality, sexism, harassment, control, abuse & violence that we, as a society, have been teaching & showing them.
When words are not enough to describe the suffering and loss, crafts such as star weaving can help communities like this one in Ireland to fight for justice and safety for all.
Malaysia - Perak Women for Women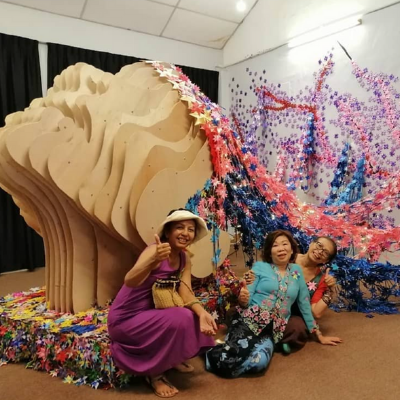 The Perak Women for Women's (PWW) Star Weave Community wove one million stars themselves, displaying most of their stars at the PWW store in Ipoh, Malaysia.
PWW is a critical service that offers:
Counselling for women and their children who experience crisis due to gender-based violence
Assistance in placement of temporary shelter for women
Offer counselling and access to legal advice for the rights of women
Education for women through awareness and programs
Skills training and development to change their socio-economic realities
When I visited our star weavers in 2018, I was blown away by their installation of 40,000 stars at Klebang Mall in Ipoh and smaller installations across the centre and at Lab Park where a shipping container was filled with an interactive display of hanging woven stars.
One of the many highlights included a special performance by the Philharmonic Society of Selangor Malaysia and a star weaving workshop with a Semai Community who are Indigenous Malaysians.
The Philharmonic performance was in support of Perak Women for Women, Soroptimist International Ipoh & the One Billion Stars project.
It was a joyful time to celebrate these organisation's achievements and to renew support and energy for working together to end violence.
How can I get involved in weaving crafts as activism?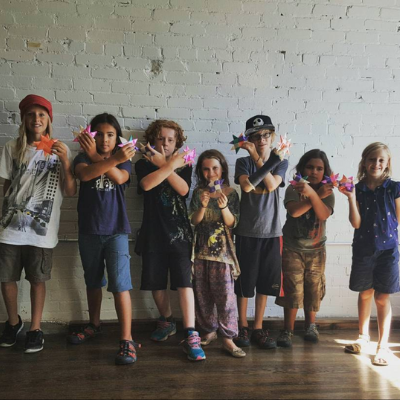 There are several simple ways to get involved in star weaving as activism:
I started One Billion Stars in 2012 because I love to weave and because I was so angry that another young woman was raped and murdered in my community.
I knew that we had to find a way to gather and to gently and consistently protest against violence.
But there was another reason to bring people together, and that was to participate in weaving circles like that of my ancestors and many other Indigenous cultures.
I saw a need to create spaces for making, and through that making, take time to remind each other that there is still good in the world. That we can make something beautiful and powerful together to change our situation for the better.
This is the power of communities who craft.
By encouraging individuals to create a common but unique crafting work to highlight a message, we are strengthening our collective voice.
We are creating a call to action that celebrates the handmade and long traditions of making lasting change with our own hands.