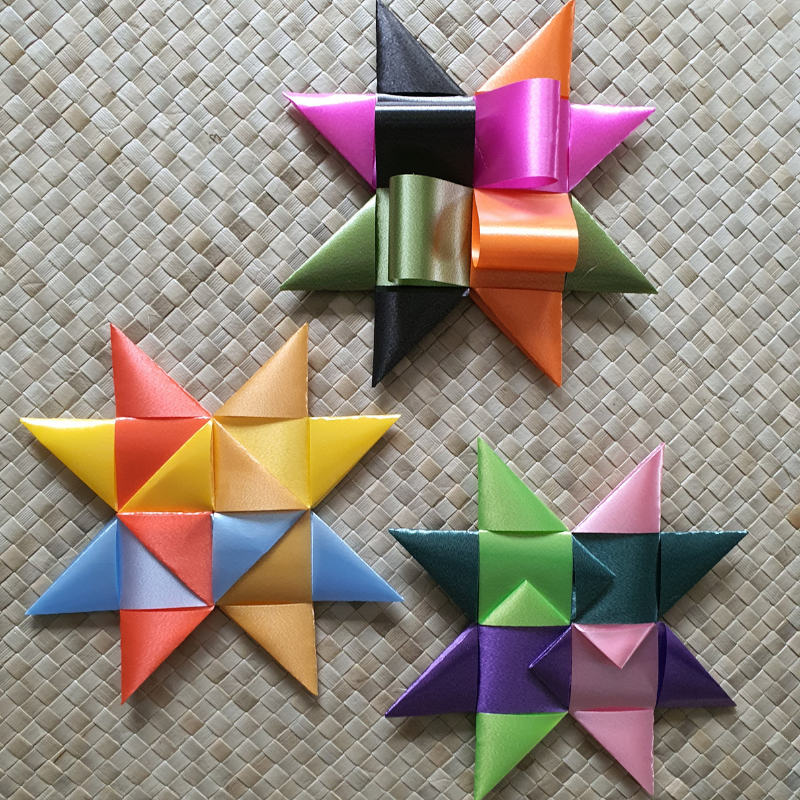 Ever wondered how people add fancy finishes to their woven star?
Or, maybe you've seen a woven star that has some fancy finishes to it and you're like, "how did they do that?"
If you're a passionate star weaver like me : ) you'll want to learn all the techniques, tips and tricks to weave the most beautiful star your hands ever did make.
And why not, we have a goal of weaving one billion stars, so there's plenty of opportunities to practice and experiment!
If you're in Tāmaki Makaurau Auckland and you're keen to have a go at some of these finishes, head on down to Silo 6, Silo Park. You'll find Vaka to A Billion Stars up until next Sunday 18th July.
There you'll find trestle tables, pre-cut ribbon and my star weaving tutorial to help you make the star.
Once you're done, follow these simple instructions to make new folds that make your star stand out!
Go on, give it a try, it's so fun! You might come with a new design yourself. If you do, make sure to share it with us on social media.
Tag us on Instagram @weave_onebillionstars or facebook @onebillionstars. Don't forget to use the hashtag #VTABS
Please note: These folds also depend on how long the strands are after you've made all of your 8 points.
You might have to cut a little bit off the end if it's way too long.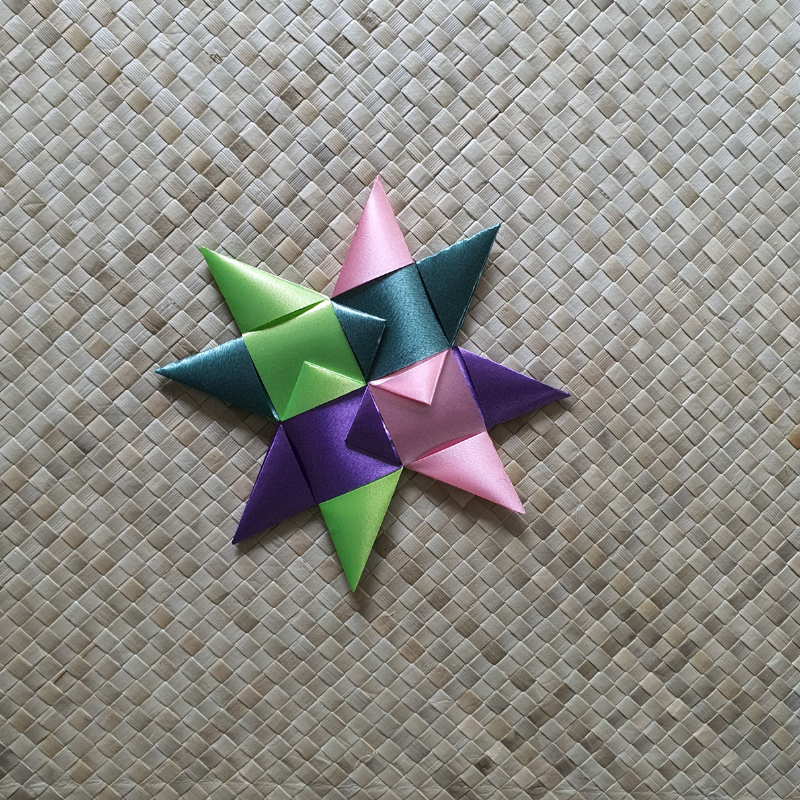 P
Most of the stars will have longer strands on one side – this is normal. You can still create funky folds with shorter ends. The options are endless!
Here are our top 3:
You may need scissors to cut the end, or just fold the strand end again and tuck it in.
Technique 1:
Step 1. Fold your strand away from the star on an angle. Crease into place.
Step 2: Fold along this new fold/line to make a small triangle.
Step 3: Tuck the end back into the pocket above.
Step 4: Repeat this with the remaining 3 strands.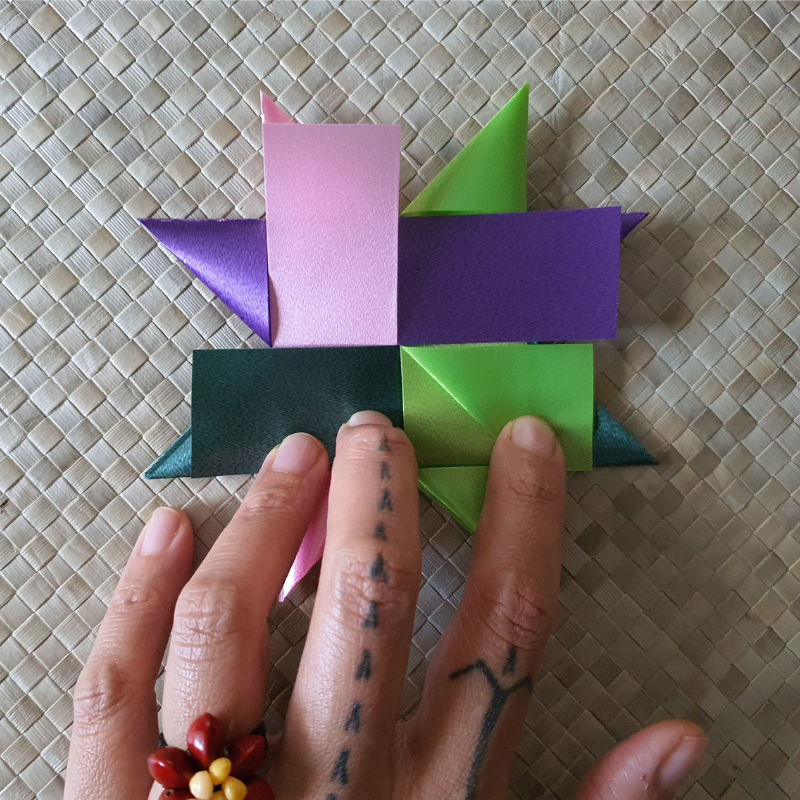 Step 1: Fold strand away from the star on an angle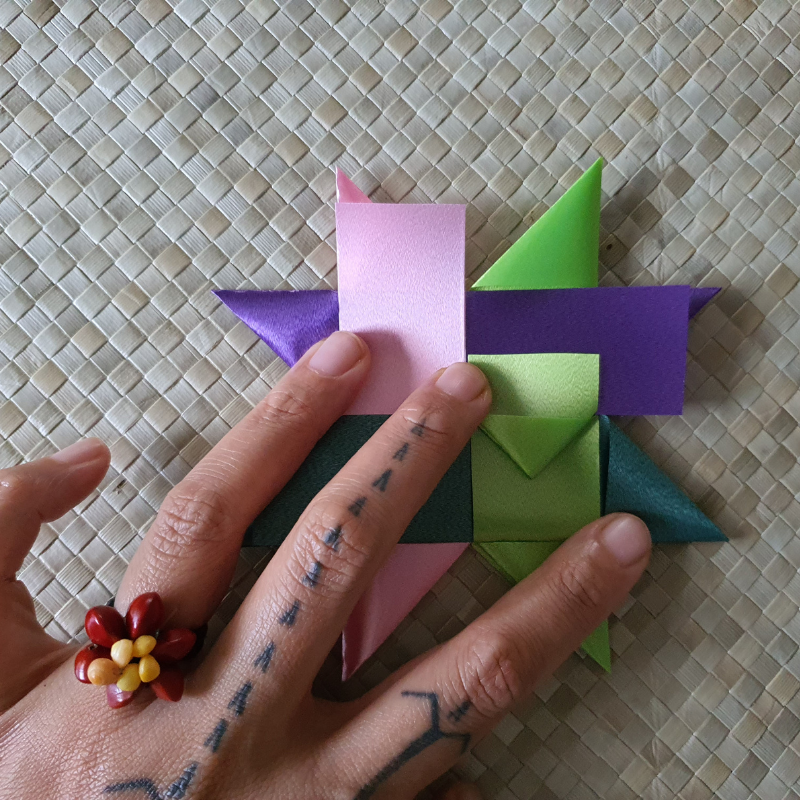 Step 2: Fold along this new fold to make a triangle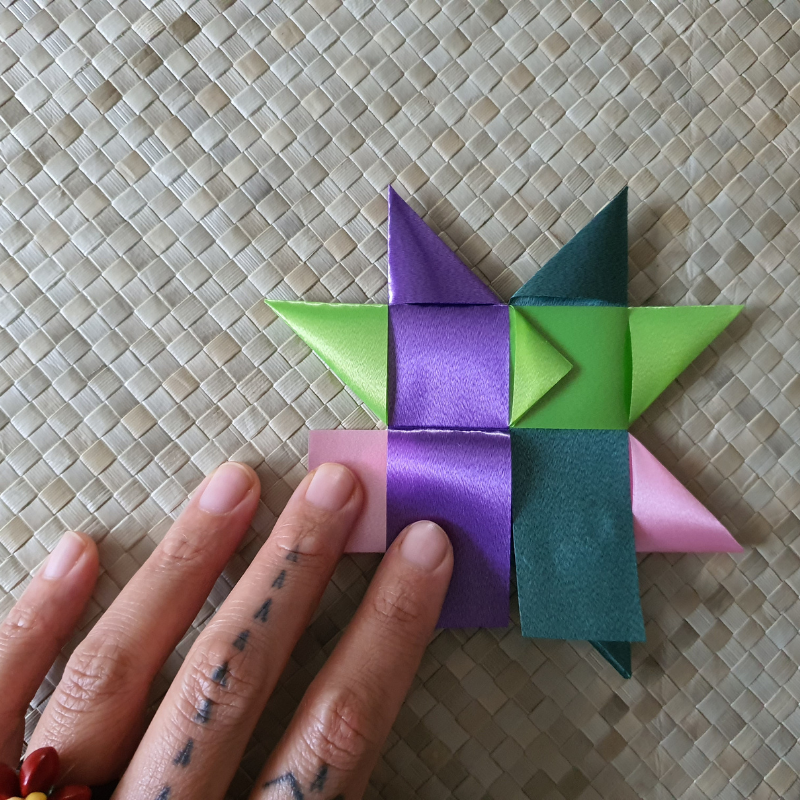 Step 3: Tuck the end back into the purple pocket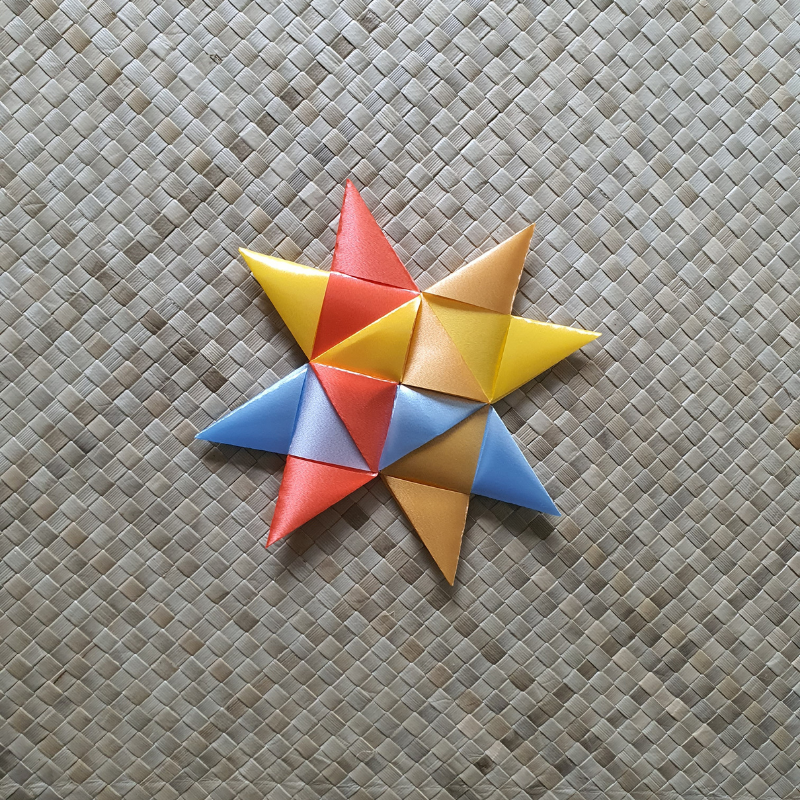 Technique 2:
Step 1: Fold a strand up over the pocket above it.
Step 2: Fold the strand on an angle towards the next pocket to make a right angle triangle.
Step 3: Tuck the end into the pocket underneath.
Step 4: Repeat this with the remaining 3 strands.
This is one of my favourites, because you get to mix the colours of your ribbons with each other, giving it a another dimension : )
They even look great when you use four strands of ribbon that are the same colour.
It adds another dimension to your star.
Remember, you can take to your star with a fine tip marker or pens to add patterns and designs to your finished woven star.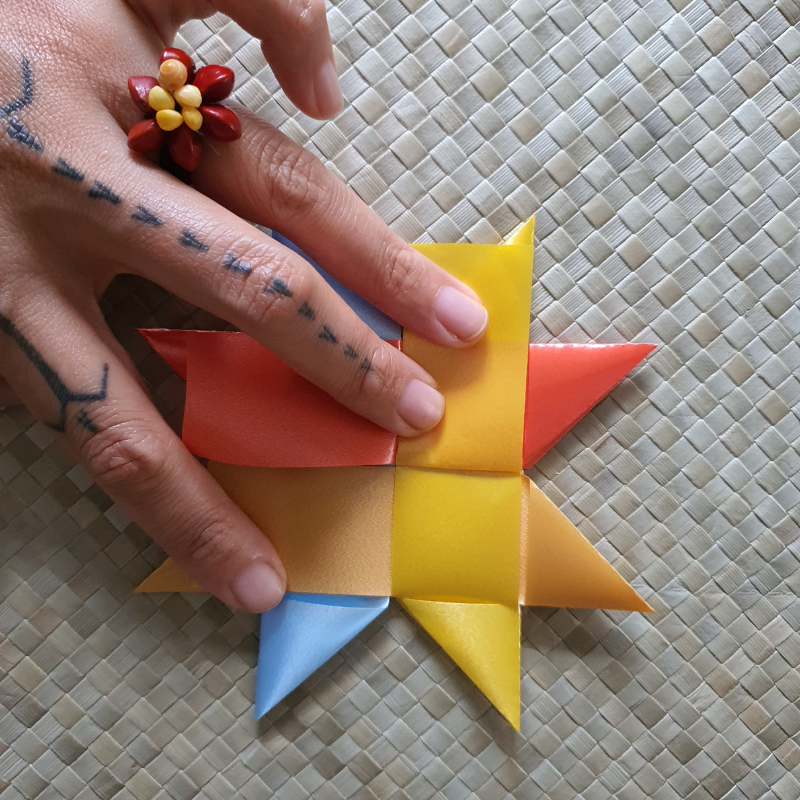 Step 1: Fold strand over pocket above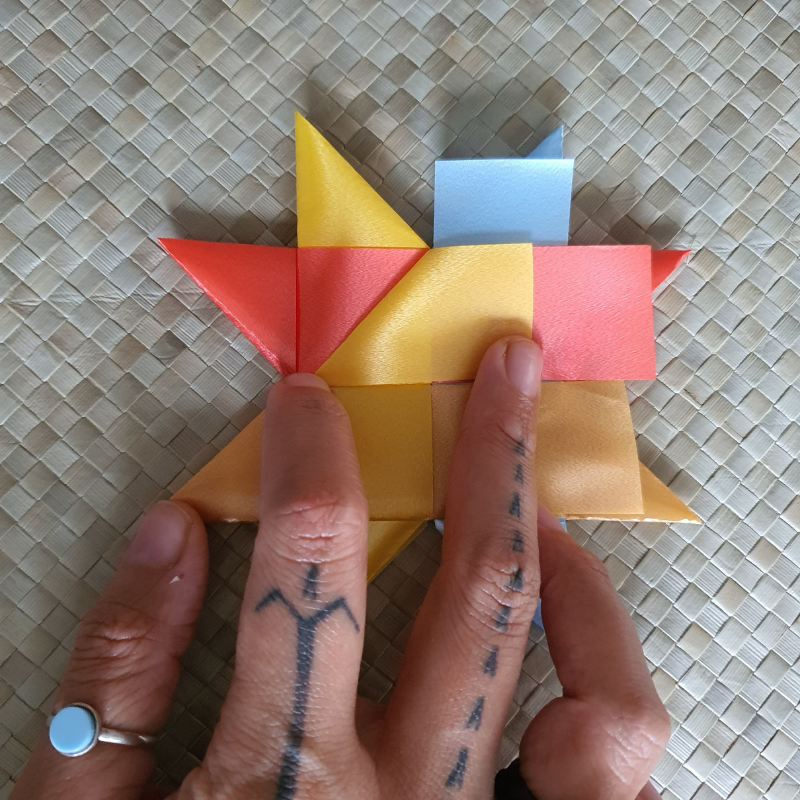 Step 2: Fold strand on an angle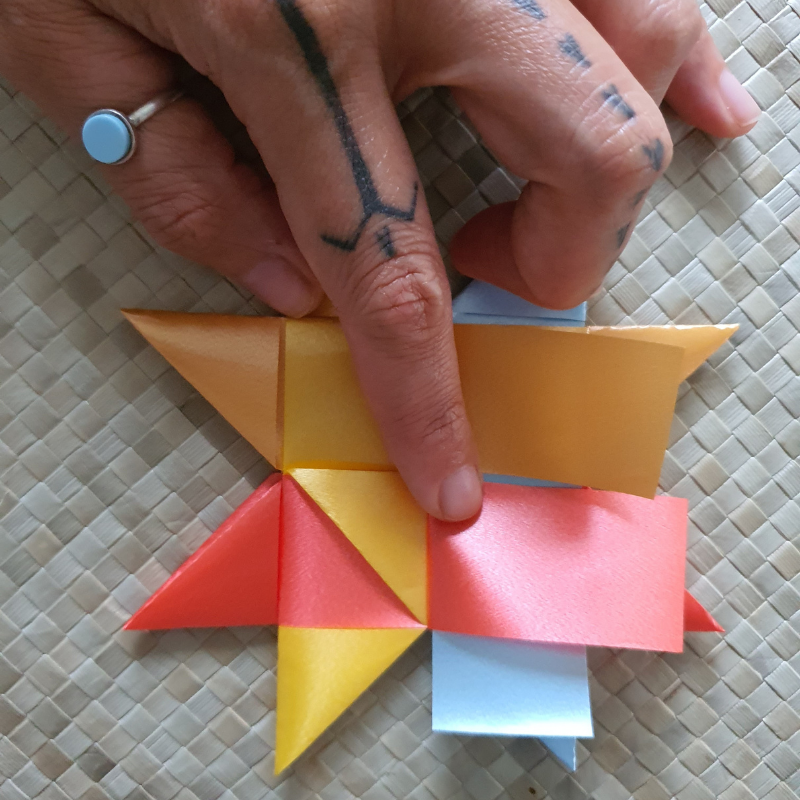 Step 3: Tuck the end into the pocket above
Technique 3: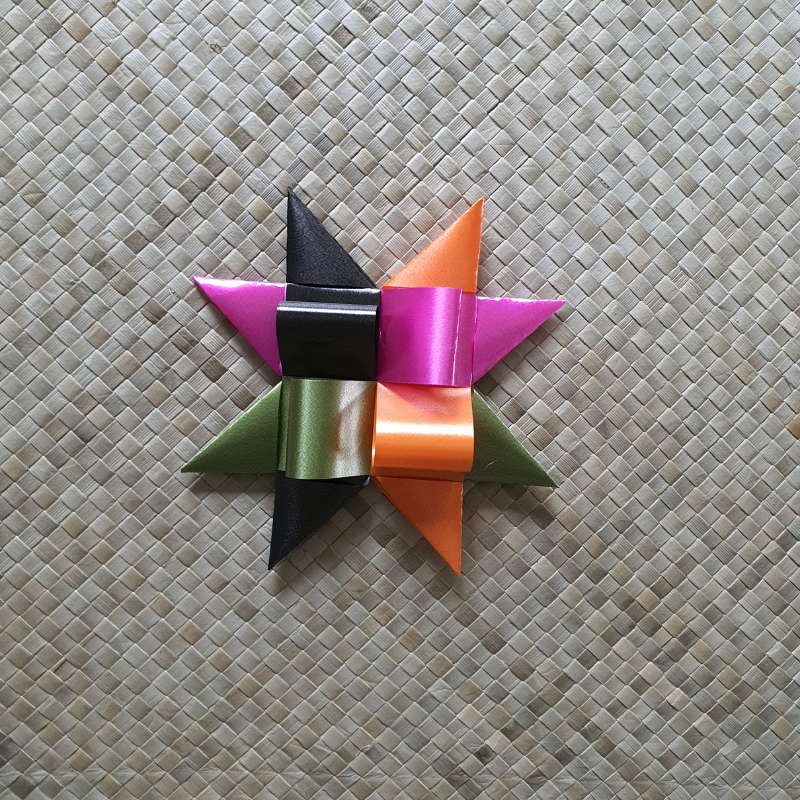 Step 1: Take the end of a strand and tuck it back over itself into the same pocket.
Step 2: Depending on how long your strand is, leave it as a folded loop
Step 3: Continue around your star, tucking each strand back into the pocket.
Technique 3. Part ii:
Step 1: You can also choose to crease the fold of the ribbon when folding it back into itself. That makes a cool effect as well.
There are so many ways to finish to your star, and it's great for those that finish their star quickly and want another challenge.
Remember, you can have markers available for people to write their names on their stars, or the names of loved ones or just messages for people who will see their stars.
Some people have written names, messages like "Everyone is Welcome" or "Love" and "Be Kind." Some have even drawn beautiful patterns on their stars.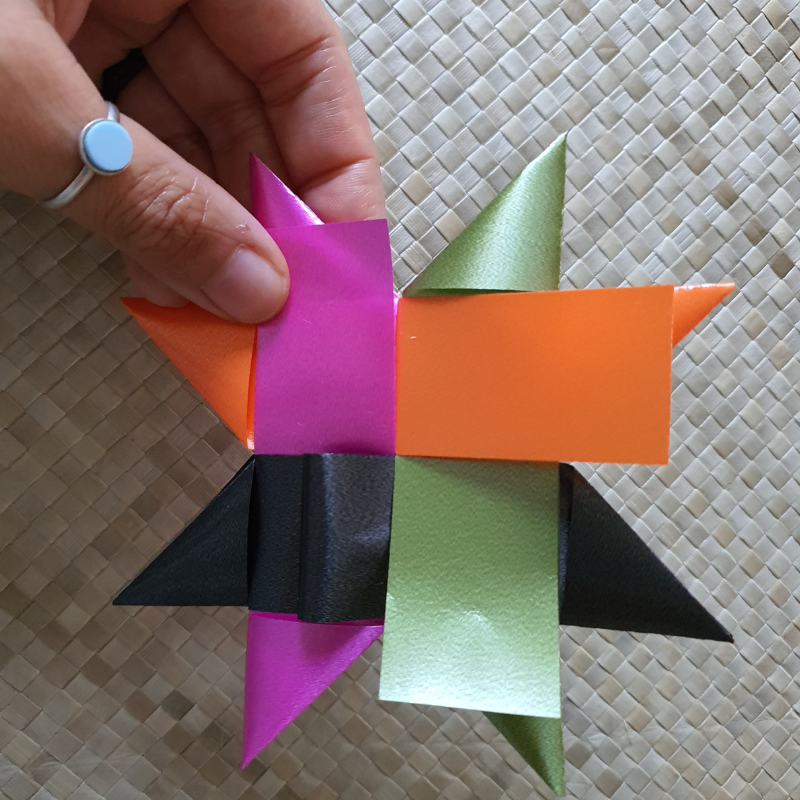 Step 1: Take end and tuck into pocket above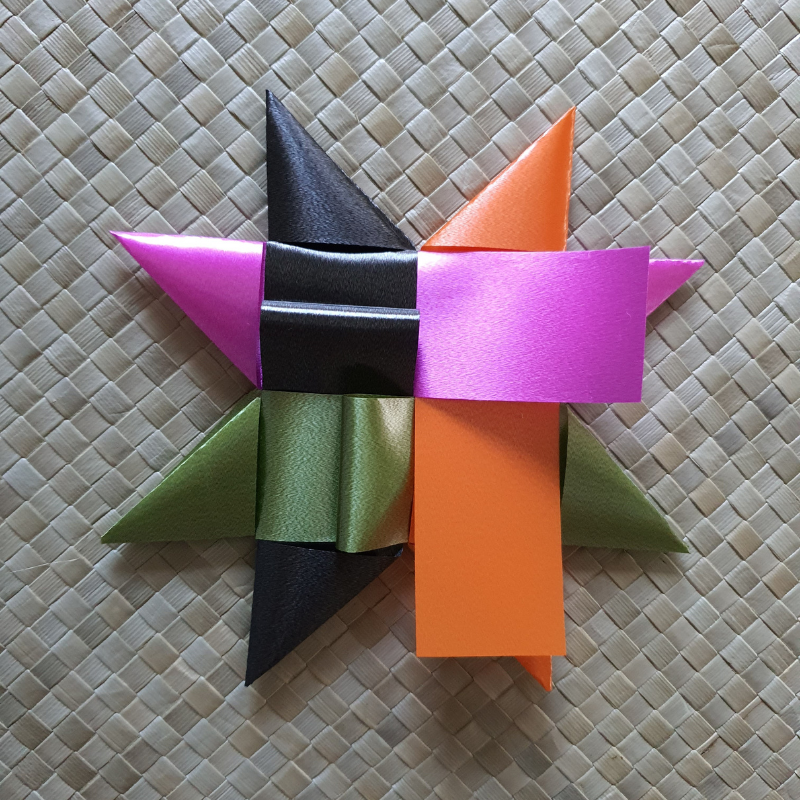 Step 2: Continue around your star tucking in each end
Make sure you check out the different stars and coloured ribbon combinations that locals in Auckland have made for Vaka to A Billion Stars. They are so beautiful and clever, and they are the exact same stars which are used in the installation of 300,000 stars.
Here's the details again, in case you missed it:
Vaka to A Billion Stars is part of Matariki Festival and proudly brought to you by Auckland Council with support by Panuku Development Auckland.
FREE PUBLIC PROGRAMMES
7 July – 11 July (Wed – Sun). 12pm – 4pm. Weave A Star drop-in Session
14 July – 18 July (Wed – Sun) 12pm – 4pm. Weave A Star drop-in Session
Tag us on social media using #VTABS
VAKA TO A BILLION STARS | Gallery Space
A curated space created to awhi the 300,000+ stars while they visit Tāmaki Makaurau
Diwata and Moon Goddess
Repurposed commercial materials
Navigators of the Sea
Vinyl translation fo the original made of nagtu (Tongan tapa), umea (red earth from Vava'u. Tonga) and Indian ink
Floral Stars
Plastic florals, foam board and beads
O le 'Aniva
Niu Aitu: O le 'Aniva
Celestial body…never set foot on eart…never needed to.
Not a Sun_Tagaloa-La_worshipper…especially after he impregnated Magamagafatua_Luai and Luana'a…prefers the Moon for company…Maaina…but not when she is full…Aofasa…as things tend to get a bit highly strung around that time.
Venus is good fun. Now she has stopped consuming me. But not in the morning…Fetoao…but when she comes out first thing at night…Tapu'itea…her penance is done. And she is ready for some fun.
The Long share,,Māngōroa…is an ancestor and faithful companion found in the dark matter of the Milky Way..O le 'Aniva…they are always together. Anchored to the West…Lagi e aumuli…watch them. As they drop our of the night.
WEAVE A STAR WITH MARYANN | Workstation
A workspace where you can learn to weave a star and features two video works which have been invited to awhi the kaupapa of the One Billion Stars project by Maryann Talia Pau
Protection
Tanu Gago in collaboration with Nahora Ioane
A performance piece dedicated by Nahora to the LGBTQIA+ community of Rarotonga and specifically created in response to the criminalisation of homosexuality in the Cook Islands and a beautiful gesture of standing in solidarity with her community.
Babaylan
Marc Conaco
An homage to the Babaylan. Biaaya pre-colonial queer ancestors. Keepers of traditonal and knowledge, ritual leaders, healers, and spirit link to the divine. Demonised and violently erased by the Catholic Spanish invaders. May you live forever in our spirit and memory.
Weave a Star. Start a Conversation.
Can't make the workshops? All good, we got you. You can weave your own stars at home, using our star weaving kits online. Choose between 50 and 100 stars.
Stay warm and happy Star weaving!
Love and light,
Maryann