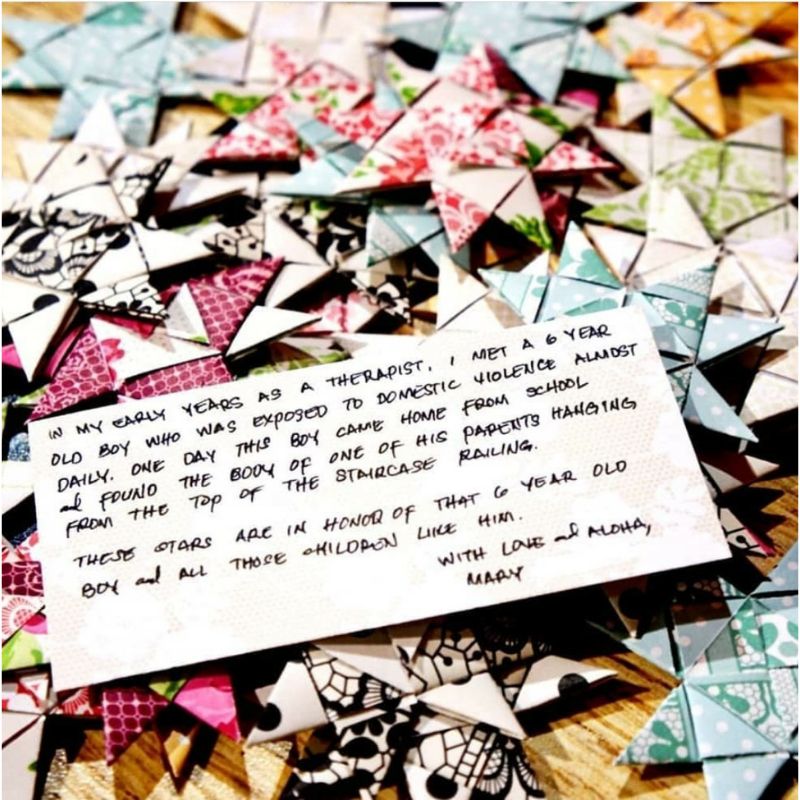 "Darkness cannot drive out darkness; only light can do that. Hate cannot drive out hate; only love can do that." – Dr Martin Luther King Jnr. Civil Rights Leader.
These powerful words by Dr King inspired the creation of the One Million Stars to End Violence project (2012) and it is strengthening us to create more impact through One Billion Stars.
Launching on Monday 18 January 2021, Rev Dr Martin Luther King Jnr Day (MLK Day), One Billion Stars a new enterprise that will build on the global impact of the One Million Stars project.
Our mission is to build more partnerships and collaborations to create violence free communities using the power of star weaving.
Weaving is more than a therapeutic and traditional craft. It is a powerful metaphor for understanding how we are all connected and how the impact of violence, whether it's racism, violence against girls and women or on the earth, hurts all of us.
If weaving can help us to cope with grief and anger and find focus to do good, then maybe it can help others.
Sharing the star weaving technique and weaving with others is not just about making beautiful star installations. It's about sharing culture and tradition, ancient ways of being in community with each other over food, craft and healthy relationships.
As a Pacific Island / Pasifika woman, weaving helps me connect to the stories of my ancestors and their voyages across the moana / deep oceans. When I weave with others, I remember the courage and creativity of my communities to navigate the oceans of life and be guided by creation and elders.
Building community connections and creating a safe sense of belonging is the heart of our star weaving movement. Every time a person weaves a star, they are expressing their hopes, dreams and concerns. Weaving stars helps us to feel less alone, less overwhelmed by the enormity of violence and more confident to face the next step.
We feel privileged to hear the stories of our star weavers, weaving stars for social movements important to them, like climate change awareness, including LGTBQI plus voices, Indigenous and First Nations culture, Refugees and Asylum seeker stories and Black Lives Matters.
Our hope is that if we all practise kindness and compassion in our personal relationships, our workplaces and neighbourhoods, we can create a more accepting and safe world for everyone.
We believe that working together is key to creating lasting deep change, which is why One Billion Stars is looking to work with organisations that can help address broader issues of health and wellbeing, community partnerships and resilience. A great resource for action is the the United Nations Sustainable Development Goals.
Please Contact Us to discuss partnerships. We look forward to hearing from you.