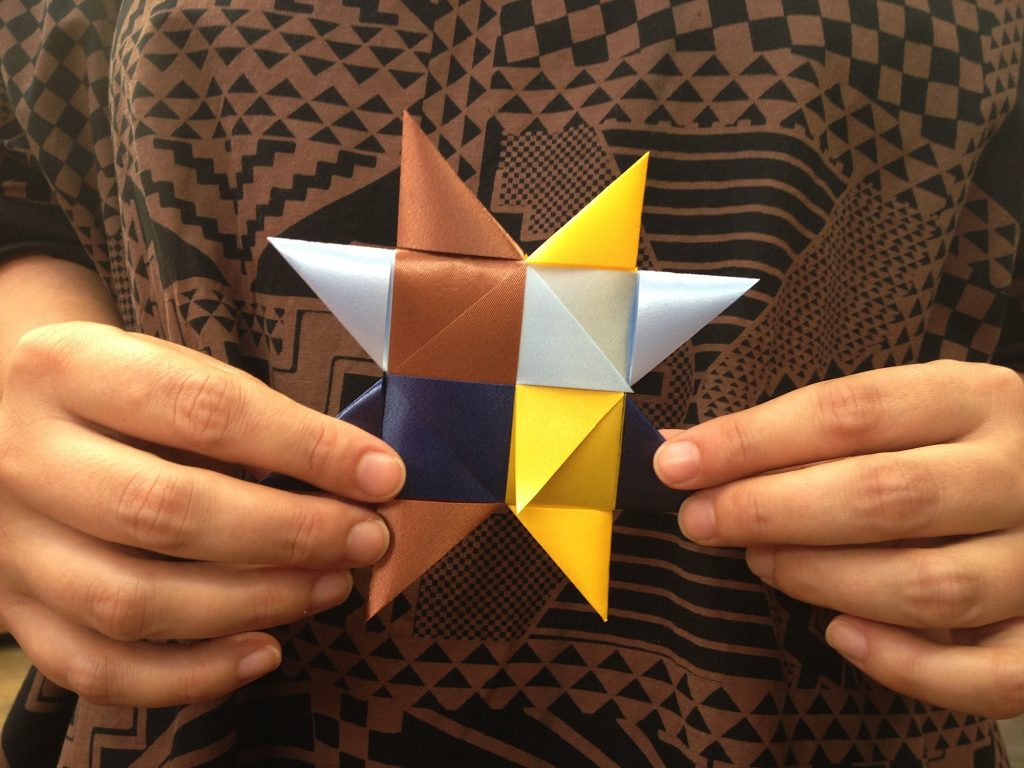 We've created a star weaving youtube video and printed instructions to help you learn how to weave a star.
You can also find these printed instructions in our star weaving kits. Our kits also include pre-cut ribbon to weave your stars. You can choose from 100 stars, 500 stars or 1,000 stars. You can purchase our starter kits here.
Our first video tutorial to weave an 8 pointed star was made almost 10 years, when we started the One Million Stars to end violence project in 2012. We've also attached it to our Star Weaving Kits page for ease so that you can watch it while you weave your beautiful stars.
We've since made a recent star weaving tutorial (minus music and talking) which you can watch here.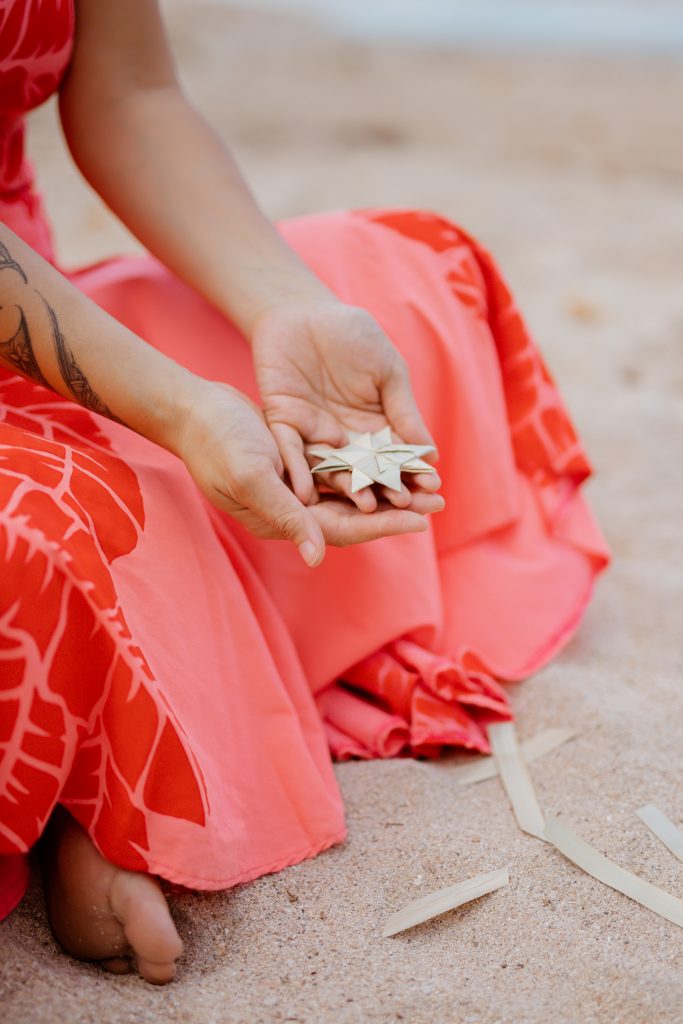 What materials you can use to weave these stars?
The simple answer is, you can use whatever materials you like. We prefer to use tear or florist ribbon, because they come in various colours and the ribbon width is approximately 33 mm.
In Samoa, we weave most of our ornaments and objects using dried pandanus leaf or coconut palm frond. Materials like pandanus are not as readily available here in Australia, but many weavers have learnt to improvise.
We've had star weavers make stars from paper strips, natural fibres, cotton fabric, recycled plastic bag strips, thin metal strips.
If you can fold it and shape it into an 8 pointed star, then you're on to something! We've even had star weavers weave stars in different sizes, as tiny as a 5 cent coin or as large as 50cm.
Some of our star weavers are skilled master weavers, like Dr Maureen Lander. She has woven flax and paper stars with her community in Hokianga, Aotearoa NZ for the One Billion Stars project. Some of our Māmā's (senior elders or aunties) in Rarotonga Cook Islands, wove stars using coconut leaf before switching to paper strips. You can make some beautiful small-scale installations using stars made from different materials. Each one will tell a different story, depending on the materials and sizes you make.
Can anyone weave a star?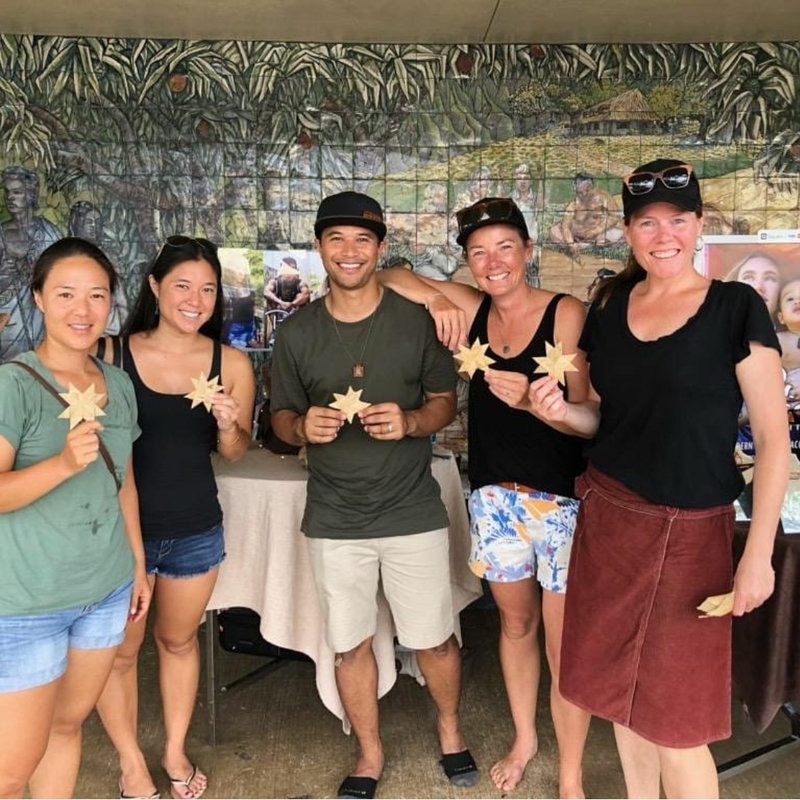 ABSOLUTELY!
In fact, we encourage and welcome EVERYONE, to learn how weave a star with us. You don't need to be an artist or designer to learn how to weave. This weaving project is not just for women either, simply because women alone can't end violence. We all need to participate. This is why we love that schools and businesses participate in our weaving movement, because it's a great way to embed the values of safety, respect and trust across all levels of community.
Star weaving is a beautiful craft that many generations can participate in together. What ever language you speak, what ever faith you follow, when you learn to weave a star as your personal statement of solidarity, you become part of a global movement that wants to see an end to violence. We all know what it's like to be part of a club, a membership or community. We seek out like minded people who have hope, who believe in working together, even though it's hard work.
Learning how to weave a star is more than making a beautiful 8 pointed star that we can use for decoration. It represents our commitment to take action. It symbolises those first necessary steps, that violence is a big issue for all of us to deal with and that we can start by focussing on the relationships and people around us. Star weaving helps us to reach out to others in our community who might be strangers, to say "hey, I hope you're ok. This is a really important conversation, I hope we can make a difference together."
Whether you're a seasoned star weaver or new to this movement, you are welcome.
"Community" is all of us, those who mirror our values and habits and those who are on the exact opposite of who we are. This is who we need to work with. How can we do this? Can art and craft help us to weave a bridge to come together to make? Lots of questions to think about as we learn to weave a star and as we reach out and teach others.
Starting with 4 strands, let's learn together how to make an 8 pointed star.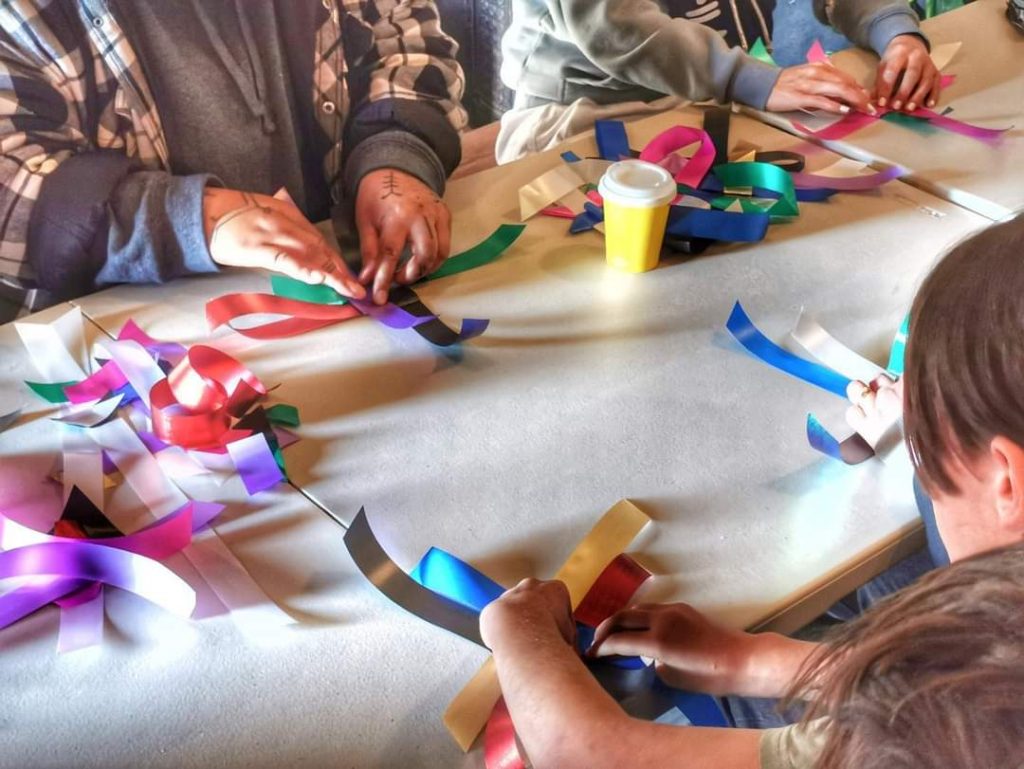 Cut 4 equal lengths of ribbon, fold in half and crease. The lengths we use are at least 40cm and can be as long as 55cm. We found that 40cm means we don't have any extra left over cutting down on waste.
Slide on folded strand (blue) over the left folded strand. (orange)
Wrap the 3rd (yellow) strand around the blue horizontal strand. Ensure the fold of the yellow ribbon is at the bottom.
Wrap the 4th (pink) strand around the yellow strand and insert both pink ends through the orange loop. Pull the pink strands all the way to the left.
Flip your woven cross over and fold the top left (orange) strand down and crease.
Going anti-clockwise, fold one strand on the left (pink) over to the right and crease.
Continue next with one yellow folding up and then the blue over to the left and under the orange.
Make your first point with top right strand. Fold under to the right to crease.
Fold forward and down to make a larger triangle & crease.
Fold larger triangle in half then thread through blue pocket. If your left over length is long, you can carefully trim this away.
Repeat these points on every second strand til you have 4 points on this side.
Now flip your star over and complete the last 4 points on this side (steps 8-10)
Well done! You've made your first woven star.
Want to put this learning into action? Buy one of our star weaving kits or book a star weaving workshop with us today.