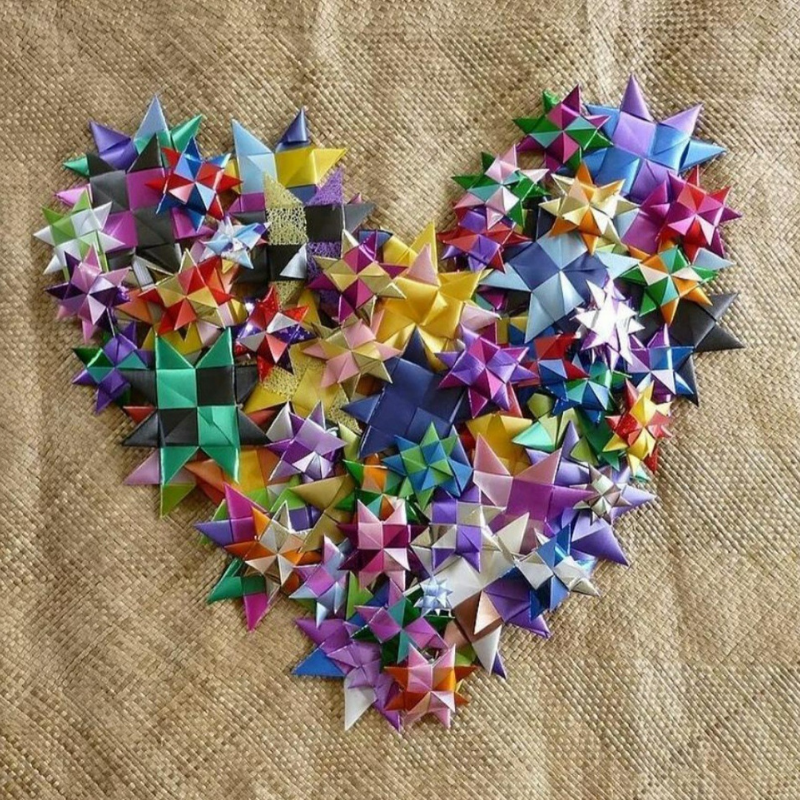 Learn how to weave a star using our Star Weaving Kits. Weaving these stars helps to create more joy, belonging AND violence free communities. Star weaving brings people together for calm creative conversations using an Indigenous star weaving craft. Try our star weaving kits today!
Our goal is to do more than end violence. We believe that if we practice a mindful, peaceful activity consistently, like star weaving, we can create more joy, open conversation and empathy. We have spent the last 10 years sharing star weaving with communities around the world, to help create violence free communities daily.
Our star weaving kits make it easy for you to get started. Create your own installations at work or in your home. Choose from:
– Our 100, 500 or 1000 star weaving kits. Includes pre-cut materials, instructions, star samples, postcards & stickers.
– A star weaving workshop and presentation with your organisation. Get in touch to discuss.
– Become a One Million Star venue & run regular star weaving workshops and create a star installation in your workplace, school or organisation. Contact us today to learn more!
These woven stars are symbols of hope, community connection and courage to end all forms of violence, including violence against girls and women, bullying and racism.
We believe that everyone can make a difference. Everyone can start somewhere, however small, and we know that star weaving is a powerful way to do that! Read our star weavers' inspiring stories.
The 8 pointed star is an Indigenous and South Pacific Island weaving craft, with variations in Samoa, the Torres Strait Islands and Sweden. Many cultures practice this beautiful weaving craft. Star weaving is a medium to advanced weaving technique that can take up to 10 minutes to complete. Some of our star weavers can weave 10 stars in 30 minutes!
Known to be a therapeutic activity that encourages calm, conversations and improves mental health, star weaving has also enabled diverse communities to create more meaningful outreach and local relationships. 230 communities around the world have woven and delivered stars to help create installations in Ipoh Malaysia, Samoa, Kilkenny Ireland and a magnificent installation of One Million Stars in King George Square Brisbane as part of the 2018 Gold Coast Commonwealth Games.
We want to support the long term and complex work that needs to happen for change. One Million Stars was the beginning, One Billion Stars is the next exciting journey.
In 2012, the goal was to weave One Million Stars to End Violence with people around the world who believe that there is more goodness and hope in the world and who are committed to taking action, even if it's small steps. In partnership with the Queensland Government, we reached that amazing goal in 2018. One Billion Stars was created to carry on this mission.
It's going to take all of us, billions of us, to create deep, lasting transformation where violence against women, racism and irreversible damage to our natural environment is no longer acceptable. Get Started and Weave with Us today!
Showing all 3 results