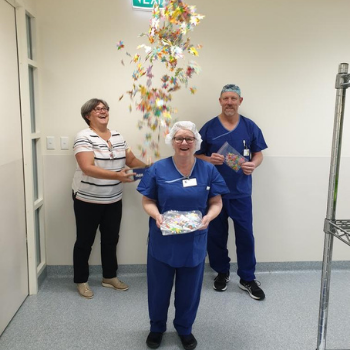 Over 17 countries and 236 communities participated in the One Million Stars installation for the 2018 Gold Coast Commonwealth Games. Read some of their stories.
The impact of our star weaving communities has allowed us to receive stars from Samoa, Cook Islands, Ireland, Canada, England, Kenya, Barbados, Fiji, New Zealand, Japan, USA, Malaysia, Scotland, Tonga, Nigeria, Hawaii and Australia and our star weaving community is growing. Stay connected with our journey and follow us on instagram or facebook.
Our active following of 9,000 plus followers on our social media are interested in staying connected online and participating in events and workshop training to address community cohesion, inclusion, mental health and sustainability. Our star weavers are taking the stars to their workplaces, hospitals and schools and creating installations to lift morale, build supportive environments and cope with the stress and trauma of COVID-19.
Through One Billion Stars, we have an opportunity to partner with leading organisations and companies to create installations around the world over the next few years.
Despite the challenges and isolation created by COVID-19, star weaving continues to bring communities together to maintain positive attitudes, nurture wellbeing and support creativity. We have 10 active star weaving communities around the world, including Austin Texas in the USA, Ipoh Malaysia and Amber Women's Refuge Ireland.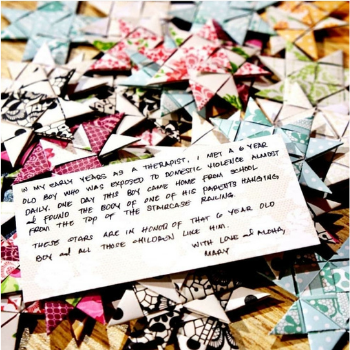 "We identified places where Gender Based Violence runs high and that's where we decided to pilot. Weaving stars is a way of making a big issue manageable and helping people open up about GBV."- Susan Waruingi. ICS Volunteers. Kenya.
Over 200 diverse communities became Star Weave Communities, including hospitals and health centres like Portland District Health (image above) schools, workplaces, faith communities, athletes, libraries, health centres, refugees and asylum seekers, LGBTQI plus South Pacific Island, Aboriginal and Torres Strait Island communities. Some of those star weaving communities include All Hallows School, Aboriginal Housing Victoria, NAIDOC Week events, Queensland Firebirds, Queensland Police, Redland City Council library, TAP Africa and Perak Women for Women.
Contact us to create star weaving workshops in your school, organisation or company today!